Goolgames.com >
Puzzle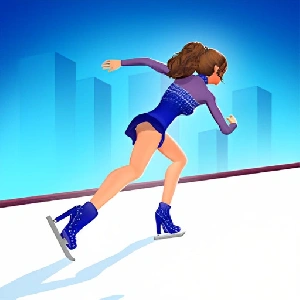 Cutting Edge is an exhilarating and free skating game that lets players perform various figure skating moves while overcoming traps.
×
Related Games
ALL
Cutting Edge
About Cutting Edge
Cutting Edge is a very fun skating game for free. Players can manipulate their characters to perform various figure skating. You can pose various movements to challenge, and the scores obtained by different movements are also different. With the increase in levels, there will be more traps. Give full play to your operation skills and complete various actions to earn high scores!
Gameplay of Cutting Edge
Experience the excitement of figure skating in Cutting Edge, a thrilling and free skating game. Players take control of their characters, showcasing their figure skating prowess. The game allows you to execute a wide array of movements, with each movement type offering different scores. As you progress through levels, the challenges intensify, introducing more traps to navigate. To succeed, players must demonstrate exceptional operational skills, executing various actions flawlessly to achieve high scores. Cutting Edge provides a dynamic and engaging gaming experience that combines skill and creativity, making it a must-play for skating enthusiasts and gamers alike.
Features of Cutting Edge
Figure Skating Thrills: Engage in exciting figure skating moves.
Diverse Movements: Perform various poses and actions for score challenges.
Increasing Difficulty: Face progressively more challenging levels with added traps.
Skill Showcase: Display your operation skills in executing intricate figure skating actions.
Score Chase: Strive to earn high scores by mastering different movements in Cutting Edge.
Play Cutting Edge online for free in Chrome, Edge and modern Web Browsers.
Tips and Strategies for Cutting Edge
Practice Makes Perfect: Hone your figure skating skills through practice.
Movement Variety: Explore and master a range of movements for higher scores.
Trap Awareness: Be vigilant and anticipate traps as levels advance.
Precision Timing: Execute actions with precise timing for maximum points.
Score Competitions: Challenge friends to see who can achieve the highest scores.
In Summary
Cutting Edge offers a thrilling free skating game experience, where players perform figure skating moves, face increasing challenges, and aim for high scores. Play Cutting Edge online on Chrome, Edge or other modern browsers and enjoy the fun.

GameComets brings together the most popular games, including the highly addictive Cutting Edge and a host of other trending free online games that promise to take your gaming journey to the next level.

Our carefully curated collection of games is designed to promote relaxation, and playing Cutting Edge online on our platform is the perfect way to de-stress and improve your mental well-being.
Platforms
Experience the thrill of the popular game Cutting Edge like never before with our free online version! Whether you're on a Chromebook, laptop, desktop or PC running Windows, you can now enjoy this game to your heart's content.

At our platform, we understand the importance of seamless gameplay. That's why we tested Cutting Edge game extensively on Chrome, Edge, and Firefox, and made sure it works faultlessly across all of today's most popular web browsers. You may play this game anytime you choose, from any location.
How to Play Cutting Edge
Control your character and choose from a variety of figure skating movements.
Execute movements with precision and creativity to accumulate points.
Navigate through levels with growing complexity and avoid traps.
Embrace the excitement of figure skating and master your skills in Cutting Edge, chasing high scores and triumphing over challenges.