Goolgames.com >
Racing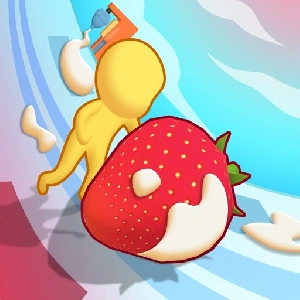 Dessert Stack is an exhilarating online dessert running game tailored for boys. Craft delectable fruit desserts through parkour and creativity!
×
Related Games
ALL
Dessert Stack
About Dessert Stack
Dessert Stack is a free online dessert running game for boys. You play a skilled dessert master in the game, making fruit desserts by parkour, adding different flavors of frosting, syrup, and other ingredients to build the cake with desserts. You can give full play to your creativity and easily create delicious food. Play on Mobile, Tablet, or Desktop.
Gameplay of Dessert Stack
Dessert Stack invites you to become a dessert master in a thrilling online game. As the skilled dessert creator, your mission is to craft tantalizing fruit desserts through a unique blend of parkour and creativity. Customize your creations by adding a variety of delectable flavors of frosting, syrup, and other scrumptious ingredients to construct mouthwatering dessert towers. With this game, your culinary creativity knows no bounds, and you can effortlessly whip up delightful confections. Enjoy the game on Mobile, Tablet, or Desktop, and embark on a sweet and exciting adventure that's bound to satisfy your gaming cravings.
Features of Dessert Stack
Creative Dessert Crafting: Construct dessert masterpieces using parkour and innovative combinations of ingredients.
Flavorful Ingredients: Choose from a range of delicious frostings, syrups, and more to customize your desserts.
Fruit Dessert Paradise: Explore an array of fruit-inspired dessert options that you can create and enjoy.
Parkour Adventure: Navigate dessert-making challenges with an entertaining parkour element.
Cross-Platform Fun: Play Dessert Stack on Mobile, Tablet, or Desktop to savor sweet gameplay anywhere.
Play Dessert Stack online for free in Chrome, Edge and modern Web Browsers.
Tips and Strategies for Dessert Stack
Experiment with various ingredient combinations to create unique and delectable desserts.
Master parkour techniques to efficiently navigate through dessert-making challenges.
Pay attention to timing and precision to ensure your dessert creations are perfect.
Challenge yourself to construct ever taller and more intricate dessert towers.
Unleash your creativity and enjoy crafting delicious virtual treats in Dessert Stack.
In Summary
Dessert Stack is a free online dessert running game that immerses players in a world of dessert creation through parkour and imaginative ingredient combinations. Play Dessert Stack online on Chrome, Edge or other modern browsers and enjoy the fun.

GameComets brings together the most popular games, including the highly addictive Dessert Stack and a host of other trending free online games that promise to take your gaming journey to the next level.

Our carefully curated collection of games is designed to promote relaxation, and playing Dessert Stack online on our platform is the perfect way to de-stress and improve your mental well-being.
Platforms
Experience the thrill of the popular game Dessert Stack like never before with our free online version! Whether you're on a Chromebook, laptop, desktop or PC running Windows, you can now enjoy this game to your heart's content.

At our platform, we understand the importance of seamless gameplay. That's why we tested Dessert Stack game extensively on Chrome, Edge, and Firefox, and made sure it works faultlessly across all of today's most popular web browsers. You may play this game anytime you choose, from any location.
How to Play Dessert Stack
Take on the role of a dessert master and embark on the sweetest adventure.
Use parkour skills to build dessert towers, adding diverse flavors and toppings.
Creativity is your ally—customize desserts, reach new heights, and conquer dessert challenges.
Play Dessert Stack on Mobile, Tablet, or Desktop for a delightful gaming experience that lets your culinary imagination shine.