Goolgames.com >
Racing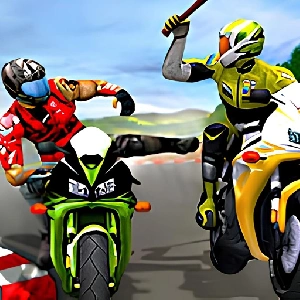 Mini Moto: Speed Race
76%
Prepare for the ultimate adrenaline rush in Mini Moto: Speed Race, a high-octane cycling game filled with daring stunts and tactical weapon attacks.
×
Related Games
ALL
Mini Moto: Speed Race
About Mini Moto: Speed Race
Welcome to Mini Moto Speed Race, an exhilarating cycling game that offers death-defying stunts and weapon attacks. Your objective is to emerge as the winner by crossing the finish line first and outsmarting opponents with strategic moves. Display your prowess, outshine your rivals, and emerge victorious in a thrilling motorbike race. Good luck!
Gameplay of Mini Moto: Speed Race
In Mini Moto: Speed Race, your goal is to secure victory by being the first to cross the finish line while using strategic maneuvers and weapon attacks to outsmart your opponents. This thrilling game combines fast-paced racing with death-defying stunts, offering an exhilarating gaming experience. Show off your skills and outshine your rivals as you navigate challenging tracks, perform gravity-defying tricks, and unleash devastating weapons to gain the upper hand. Mini Moto: Speed Race will put your reflexes and tactical thinking to the test as you race towards victory in intense motorbike battles.
Features of Mini Moto: Speed Race
High-speed motorbike racing with breathtaking stunts.
Tactical weapon attacks to gain an advantage over rivals.
Varied and challenging tracks to test your racing skills.
Realistic physics for an immersive gaming experience.
Thrilling multiplayer mode for epic showdowns with friends.
Play Mini Moto: Speed Race online for free in Chrome, Edge and modern Web Browsers.
Tips and Strategies for Mini Moto: Speed Race
Master the art of timing to execute stunts and attacks effectively.
Collect power-ups and use them strategically to gain an edge.
Study each track's layout and plan your route to avoid obstacles.
Keep an eye on your rivals' moves and anticipate their tactics.
Practice and refine your racing skills to become the ultimate Mini Moto champion.
In Summary
Mini Moto: Speed Race delivers heart-pounding motorbike racing action with death-defying stunts and strategic weapon attacks. Prove your dominance, conquer challenging tracks, and emerge victorious in this adrenaline-fueled racing adventure!. Play Mini Moto: Speed Race online on Chrome, Edge or other modern browsers and enjoy the fun.

GameComets brings together the most popular games, including the highly addictive Mini Moto: Speed Race and a host of other trending free online games that promise to take your gaming journey to the next level.

Our carefully curated collection of games is designed to promote relaxation, and playing Mini Moto: Speed Race online on our platform is the perfect way to de-stress and improve your mental well-being.
Platforms
Experience the thrill of the popular game Mini Moto: Speed Race like never before with our free online version! Whether you're on a Chromebook, laptop, desktop or PC running Windows, you can now enjoy this game to your heart's content.

At our platform, we understand the importance of seamless gameplay. That's why we tested Mini Moto: Speed Race game extensively on Chrome, Edge, and Firefox, and made sure it works faultlessly across all of today's most popular web browsers. You may play this game anytime you choose, from any location.
How to Play Mini Moto: Speed Race
Accelerate your motorbike by tapping and hold the screen.
Perform stunts by swiping and tapping while in the air.
Collect power-ups to enhance your weapons and abilities.
Strategically use weapons to gain an advantage and secure victory in Mini Moto: Speed Race! Good luck on the track!