Goolgames.com >
Racing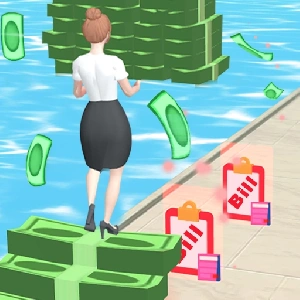 Money Rich Lover is an exciting, free online running game designed for boys. Your mission is to amass wealth by collecting money as you run, transforming from rags to riches. Exercise prudence in managing your funds as you tackle obstacles on your path to becoming a millionaire.
×
Related Games
ALL
Money Rich Lover
About Money Rich Lover
Money Rich Lover is a free online running game for boys. You need money to support your way forward. First of all, to accumulate money, and make a journey from poverty to wealth by running. Collect money step by step, and finally become a millionaire. However, it will cost you money to pass through obstacles on the road, so use it carefully to avoid bankruptcy. Challenge yourself!
Gameplay of Money Rich Lover
Embark on a thrilling adventure in Money Rich Lover as you navigate a challenging terrain while collecting money to advance. Your goal is to progressively accumulate wealth, but be cautious in spending, as obstacles require judicious use of your funds to prevent bankruptcy.
Features of Money Rich Lover
Free Adventure: Enjoy a captivating online running game without any cost.
Money-Driven Journey: Run to gather money and undergo a transformation from poverty to millionaire status.
Strategic Finance: Manage your funds wisely to navigate obstacles without running out of money.
Progressive Wealth Accumulation: Collect money step by step, measuring your progress towards financial success.
Self-Challenge: Push your limits as you strive to become a millionaire while overcoming financial hurdles.
Play Money Rich Lover online for free in Chrome, Edge and modern Web Browsers.
Tips and Strategies for Money Rich Lover
Money Management: Carefully budget your funds to ensure you can conquer obstacles without going bankrupt.
Collect Gradually: Build your wealth gradually, focusing on consistent money collection.
Strategic Spending: Use your money judiciously to tackle obstacles that obstruct your path.
Persistence Pays Off: Continuously challenge yourself to accumulate more wealth and achieve millionaire status.
Trial and Error: Learn from each attempt, refining your strategies to progress further each time.
In Summary
Money Rich Lover is a free online running game offering an exhilarating journey from poverty to millionaire status, where wise money management and strategic decision-making are crucial to success. Play Money Rich Lover online on Chrome, Edge or other modern browsers and enjoy the fun.

GameComets brings together the most popular games, including the highly addictive Money Rich Lover and a host of other trending free online games that promise to take your gaming journey to the next level.

Our carefully curated collection of games is designed to promote relaxation, and playing Money Rich Lover online on our platform is the perfect way to de-stress and improve your mental well-being.
Platforms
Experience the thrill of the popular game Money Rich Lover like never before with our free online version! Whether you're on a Chromebook, laptop, desktop or PC running Windows, you can now enjoy this game to your heart's content.

At our platform, we understand the importance of seamless gameplay. That's why we tested Money Rich Lover game extensively on Chrome, Edge, and Firefox, and made sure it works faultlessly across all of today's most popular web browsers. You may play this game anytime you choose, from any location.
How to Play Money Rich Lover
Begin by launching Money Rich Lover on your device.
Control your character to collect money and advance on your journey.
Strategically spend your money to overcome obstacles while avoiding bankruptcy.
Challenge yourself to amass wealth and reach the coveted millionaire status in this exciting game of financial transformation.