Goolgames.com >
Boys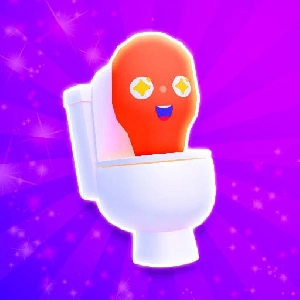 Skibidi Toilet.io is the most popular free online .io game with the hot Skibidi Toilet theme. Upgrade your capabilities by collecting toilet paper, and defeat others. You are the Toilet King of the area!
What are the features of the Skibidi Toilet.io?
In Skibidi Toilet.io, your goal is to collect toilet paper and push other toilets out of the arena. The paper looks like gold coins, and the toilet battle looks like a car battle. It is so exciting. To stand as the last toilet, not only will you need a humongous physique, but you will also need nimble movement. Additionally, the game has a two-player mode where you can team up with a friend to play. The game features a wealth of skins, so you can stand out from the crowd with the humorous art style.
What's special about the gameplay of Skibidi Toilet.io?
Slide your mouse to move, and collect the toilet paper to increase your size. Crash into other toilets to push them out of the arena. Meanwhile, you need to watch out for spike traps in the playing field, which will make you lose the game. Collect as much toilet paper as you can, and survive until the very end!
Play Skibidi Toilet.io and enjoy a fun, and addicting online arena .io game.
Skibidi Toilet.io is an addictive time-killer. And the enjoyable gameplay will keep you engrossed for hours. Channel your inner Skibidi Toilet and join the thrilling and exciting toilet brawl!
×
Related Games
ALL
Skibidi Toilet.io
About Skibidi Toilet.io
Gameplay of Skibidi Toilet.io
Features of Skibidi Toilet.io
Play Skibidi Toilet.io online for free in Chrome, Edge and modern Web Browsers.
Tips and Strategies for Skibidi Toilet.io
In Summary
. Play Skibidi Toilet.io online on Chrome, Edge or other modern browsers and enjoy the fun.

GameComets brings together the most popular games, including the highly addictive Skibidi Toilet.io and a host of other trending free online games that promise to take your gaming journey to the next level.

Our carefully curated collection of games is designed to promote relaxation, and playing Skibidi Toilet.io online on our platform is the perfect way to de-stress and improve your mental well-being.
Platforms
Experience the thrill of the popular game Skibidi Toilet.io like never before with our free online version! Whether you're on a Chromebook, laptop, desktop or PC running Windows, you can now enjoy this game to your heart's content.

At our platform, we understand the importance of seamless gameplay. That's why we tested Skibidi Toilet.io game extensively on Chrome, Edge, and Firefox, and made sure it works faultlessly across all of today's most popular web browsers. You may play this game anytime you choose, from any location.
How to Play Skibidi Toilet.io