Goolgames.com >
All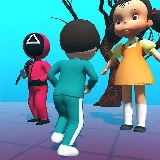 Now you can play Squid Game Pro online in your web browser for free at goolgames.com.
Game for The Squid Game! Are you going to accept the invitation? The games are about to begin!
Are you brave enough to step into the Squid Game and become a billionare?The action of the game is quite simple, your entire activity will be based on how well you manage to coordinate your movements on a wide field so that you are not found moving by armed people who are watching you.
As you can see, you are surrounded by several people dressed in a green suit, just like yours, people running towards the robot doll. The robot doll is defended by several soldiers armed with machine guns, who will shoot at the people who take steps when the red light comes on.
The whole action of the game will unfold in this way:
*Attention all players, the squid game is about to begin.
*Follow the staff's instructions and swiftly make your way towards the game hall.
*Don't get eliminated Finish or Die! Winner takes it all!
*Stop at the red light, Do not move or you will be shooted and die
*Continue when the green light is on, try to run as fast as possible, before the time is off
*Follow your character's head movements!
*Do not rush

Follow the rules and you might have a chance to win.
Try it yourself and show us how far you can go.

Squid Game 3D it's new run game, it's challenging game make you have fun.

in this new run game you can become the winner and the best player ever deepening on how much you wanna win.

Squid Game 3D is one of satisfying games and maybe is the best on squid games.

This new game is the satisfying game you've been waiting for so start playing Squid Game 3D now.

Sit back and relax in this free to play and satisfying time wasting game! Squid Game 3D is the number one squid game out there!

Squid Game 3D Game Features
◉ Simple & Beautiful graphics designed
◉ challenging game
◉ Squid Game 3D offline game.
◉ Squid Game 3D for free and easy to play.
Today I will provide you Squid Game.
Squid Game is a game that is very popular with people because there are so many benefits that can be used.Squid Game 3D Challenge is the best app in the Free Entertainment category. It is a safe app for Android devices.Squid Game received critical acclaim and attracted international attention.The 2D Game offers a number of features, which we are going to share with you.
At present, it only offers limited features, but you can explore those features on the goolgames and have fun.

In the game, large groups of people must make a run. It's a unique gameplay that's both simple and unique. All you need to do is run and complete the goal. Before your eyes is a huge doll that you will know as Ghost.
You can also see people with masks around here.

As a result, if the masked man saw you move, he will kill you. If the ghost is not staring at you, you must move. In the game, players have to choose between red and green lights.
The green light signifies moving.

To avoid the ghost turning around, players must stop moving. Even a slight movement will kill you.As such, remember to reach another side of the field even if the light is green. By doing so, you will defeat the opponent.

Features:
Playable for free
One of the best casual games
with a simple interface
that has a unique and interesting gameplay
Interface that is user-friendly
easy to use
and does not support third-party advertising

Next Update:
-Squid game
-Players are able to become guards!
-Squid Game X Robolox

Current Game Modes:
Tug of War(NEW)
Honeycomb
Red Light, Green Light
Glass
Red light, Green light - Squid Survival Game!

Goolgames Squid Games:
-Sugar Candy Challenge 3D
-Squid Game Dalgona
-Squid Game Coloring Book
-Squid Game 3D Red Light Green Light
-Shadow Fight 2 The Squid Game
-SQUID GAME DOLL 3D
-Squid Games Challenge
-Squid Game Pro
-Squid Game 3D Challenge
-Red Light Green Light Multiplayer
-Squid 3D Red Light Green Light
-Squid Game 3D
-Squid Game 2D
-456: Survival game
×
Related Games
ALL
Squid Game Pro
About Squid Game Pro
Gameplay of Squid Game Pro
Features of Squid Game Pro
Play Squid Game Pro online for free in Chrome, Edge and modern Web Browsers.
Tips and Strategies for Squid Game Pro
In Summary
. Play Squid Game Pro online on Chrome, Edge or other modern browsers and enjoy the fun.

GameComets brings together the most popular games, including the highly addictive Squid Game Pro and a host of other trending free online games that promise to take your gaming journey to the next level.

Our carefully curated collection of games is designed to promote relaxation, and playing Squid Game Pro online on our platform is the perfect way to de-stress and improve your mental well-being.
Platforms
Experience the thrill of the popular game Squid Game Pro like never before with our free online version! Whether you're on a Chromebook, laptop, desktop or PC running Windows, you can now enjoy this game to your heart's content.

At our platform, we understand the importance of seamless gameplay. That's why we tested Squid Game Pro game extensively on Chrome, Edge, and Firefox, and made sure it works faultlessly across all of today's most popular web browsers. You may play this game anytime you choose, from any location.
How to Play Squid Game Pro