Goolgames.com >
Girls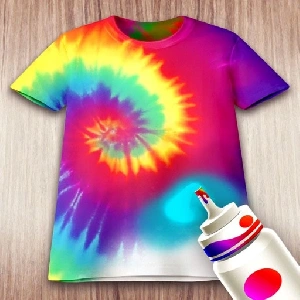 Explore your artistic side and rediscover the joy of painting in Tie Dye, a popular clothes dyeing game for girls and a free online simulation.
×
Related Games
ALL
Tie Dye
About Tie Dye
Do you want to create your artwork? You can rediscover the joy of painting in this game. Tie Dye is a popular clothes dyeing game for girls and an online free simulation game. You just need to use your imagination to create beautiful works, so you can experience the fun of coloring every moment. Good luck to you as an artist!
Gameplay of Tie Dye
Tie Dye invites players to embrace their inner artist in a creative and colorful world. As a popular clothes dyeing game designed primarily for girls, the game offers a free online simulation where your imagination is your greatest tool. Unleash your creativity by crafting beautiful works of art through the art of tie-dye. Each moment becomes an opportunity for colorful self-expression, allowing you to explore various patterns, colors, and designs. Whether you're designing garments, accessories, or more, Tie Dye brings the joy of painting and creation to your fingertips, offering a fun and relaxing experience that's both artistic and satisfying. Good luck on your journey as an artist!
Features of Tie Dye
A popular clothes dyeing game with a focus on creativity and artistic expression.
Ideal for girls and anyone seeking a free online simulation for creative enjoyment.
Explore a wide array of colors, patterns, and designs to craft unique artwork.
A relaxing and engaging gameplay experience that encourages artistic expression.
Rediscover the joy of painting through the world of Tie Dye, where every moment is a canvas for your creativity.
Play Tie Dye online for free in Chrome, Edge and modern Web Browsers.
Tips and Strategies for Tie Dye
Experiment with different colors and patterns to create unique and eye-catching designs.
Take your time and pay attention to detail, as precision can lead to stunning results.
Utilize the game's tools and features to enhance your artistic vision.
Share your creations with friends and showcase your artistic talents.
Immerse yourself in the process and enjoy the therapeutic and satisfying nature of tie-dye art.
In Summary
Tie Dye is a creative clothes dyeing game that celebrates the joy of painting and artistic expression. Ideal for girls and art enthusiasts, it provides a free online simulation to craft unique, colorful works of art. Play Tie Dye online on Chrome, Edge or other modern browsers and enjoy the fun.

GameComets brings together the most popular games, including the highly addictive Tie Dye and a host of other trending free online games that promise to take your gaming journey to the next level.

Our carefully curated collection of games is designed to promote relaxation, and playing Tie Dye online on our platform is the perfect way to de-stress and improve your mental well-being.
Platforms
Experience the thrill of the popular game Tie Dye like never before with our free online version! Whether you're on a Chromebook, laptop, desktop or PC running Windows, you can now enjoy this game to your heart's content.

At our platform, we understand the importance of seamless gameplay. That's why we tested Tie Dye game extensively on Chrome, Edge, and Firefox, and made sure it works faultlessly across all of today's most popular web browsers. You may play this game anytime you choose, from any location.
How to Play Tie Dye
Launch Tie Dye and start your artistic journey.
Choose your canvas and explore a range of colors, patterns, and designs.
Express your creativity by applying tie-dye to create unique works of art.
Share your creations, enjoy the artistic process, and celebrate your inner artist in Tie Dye.