Goolgames.com >
Puzzle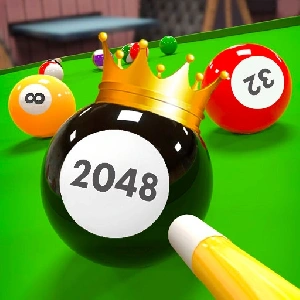 Enter the engaging world of 2048 Billiards 2 3D, a free online puzzle game where you merge balls to reach the coveted 2048 target.
×
Related Games
ALL
2048 Billiards 2 3D
About 2048 Billiards 2 3D
2048 Billiards 3D is a free puzzle online game for boys with many features and advantages, as well as endless levels. You need to find the right angle, and merge the target balls with the same number. Try to complete the corresponding targets and get more gold coins to unlock the props. Can you merge the 2048 ball successfully?
Gameplay of 2048 Billiards 2 3D
"2048 Billiards 2 3D" combines the strategic challenge of 2048 with the dynamics of billiards, offering a captivating and free online gaming experience for players, especially boys. Your objective is to find the perfect angles and merge balls with identical numbers. As you progress through countless levels, you'll encounter an array of features, each designed to test your skills and reward you with gold coins. Utilize these coins to unlock valuable props that can aid your journey. Can you successfully merge to achieve the ultimate 2048 ball?
Features of 2048 Billiards 2 3D
Unique Fusion: Enjoy the fusion of 2048's number strategy with billiards' dynamic gameplay.
Endless Levels: Dive into an array of challenging levels with no end in sight.
Gold Coin Rewards: Complete targets to earn gold coins and unlock useful in-game props.
Angle Precision: Perfect your angles and merges to progress effectively.
2048 Challenge: Aim for the coveted 2048 ball by merging numbers strategically.
Play 2048 Billiards 2 3D online for free in Chrome, Edge and modern Web Browsers.
Tips and Strategies for 2048 Billiards 2 3D
Angle Matters: Pay close attention to your ball's trajectory and angles for optimal merges.
Merge Strategically: Plan your moves ahead to create sequences of merges.
Target Completion: Focus on achieving the level's targets to accumulate gold coins.
Prop Utilization: Unlock and use in-game props wisely to overcome challenging levels.
Practice and Patience: Enhance your skills through practice and maintain patience in your quest for the 2048 ball.
In Summary
"2048 Billiards 2 3D" offers a thrilling fusion of 2048's strategic merging and billiards' dynamic angles in an endless and challenging gaming experience. Play 2048 Billiards 2 3D online on Chrome, Edge or other modern browsers and enjoy the fun.

GameComets brings together the most popular games, including the highly addictive 2048 Billiards 2 3D and a host of other trending free online games that promise to take your gaming journey to the next level.

Our carefully curated collection of games is designed to promote relaxation, and playing 2048 Billiards 2 3D online on our platform is the perfect way to de-stress and improve your mental well-being.
Platforms
Experience the thrill of the popular game 2048 Billiards 2 3D like never before with our free online version! Whether you're on a Chromebook, laptop, desktop or PC running Windows, you can now enjoy this game to your heart's content.

At our platform, we understand the importance of seamless gameplay. That's why we tested 2048 Billiards 2 3D game extensively on Chrome, Edge, and Firefox, and made sure it works faultlessly across all of today's most popular web browsers. You may play this game anytime you choose, from any location.
How to Play 2048 Billiards 2 3D
Embark on your gaming adventure in "2048 Billiards 2 3D."
Aim, calculate angles, and merge balls with matching numbers strategically.
Meet the level targets to earn gold coins, which can be used to unlock helpful props.
Challenge yourself and test your merging skills as you strive to reach the elusive 2048 ball.