Goolgames.com >
Boys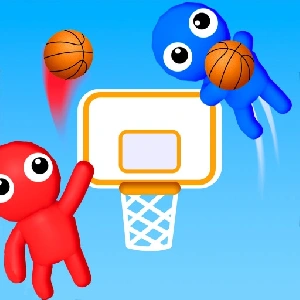 Basket Battle is an exciting shooting game that combines basketball skills and strategy to defeat AI opponents and secure victory.
×
Related Games
ALL
Basket Battle
About Basket Battle
Basket Battle is a fun shooting game. If you like basketball, then this game is a good choice for you. Throw the ball higher, move it away from the top of the basket, and throw it into the basket. There will be AI opponents fighting with you, hit your opponent to stop him from throwing the ball into the basket. You can score with the help of tools, are you confident to get the final victory?
Gameplay of Basket Battle
In Basket Battle, you'll immerse yourself in the world of basketball action. Your goal is to throw the ball higher, strategically move it away from the top of the basket, and make accurate shots. What sets this game apart is the challenge of AI opponents who will battle you for supremacy on the court. To gain the upper hand, hit your opponent to disrupt their shots and protect your basket. Use various tools strategically to score points and inch closer to the final victory.
Features of Basket Battle
Engaging basketball-themed gameplay.
Challenging AI opponents for intense battles.
Utilize tools to enhance your scoring abilities.
Test your skills and aim for the ultimate victory.
Hours of fun for basketball enthusiasts.
Play Basket Battle online for free in Chrome, Edge and modern Web Browsers.
Tips and Strategies for Basket Battle
Master your shooting accuracy to outscore opponents.
Keep an eye on your opponent's moves to block their shots effectively.
Strategically use power-ups to gain an advantage.
Timing is crucial; release the ball at the right moment.
Aim high to ensure those satisfying swooshes into the basket.
In Summary
Basket Battle offers thrilling basketball gameplay with AI opponents, power-ups, and intense competition. Show off your skills, defeat your rivals, and aim for the final victory in this action-packed shooting game. Play Basket Battle online on Chrome, Edge or other modern browsers and enjoy the fun.

GameComets brings together the most popular games, including the highly addictive Basket Battle and a host of other trending free online games that promise to take your gaming journey to the next level.

Our carefully curated collection of games is designed to promote relaxation, and playing Basket Battle online on our platform is the perfect way to de-stress and improve your mental well-being.
Platforms
Experience the thrill of the popular game Basket Battle like never before with our free online version! Whether you're on a Chromebook, laptop, desktop or PC running Windows, you can now enjoy this game to your heart's content.

At our platform, we understand the importance of seamless gameplay. That's why we tested Basket Battle game extensively on Chrome, Edge, and Firefox, and made sure it works faultlessly across all of today's most popular web browsers. You may play this game anytime you choose, from any location.
How to Play Basket Battle
Swipe to throw the ball and score points.
Watch out for AI opponents and hit them to disrupt their shots.
Use power-up tools strategically for an edge.
Challenge yourself to become the ultimate Basket Battle champion!