Goolgames.com >
Puzzle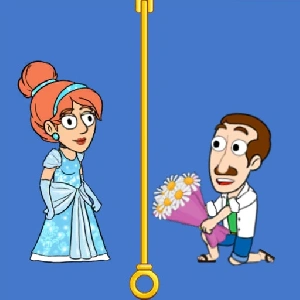 Love Pins is a unique blend of a love arcade and a two-dimensional cartoon pin puzzle game, challenging players with dangers and traps.
×
Related Games
ALL
Love Pins
About Love Pins
Love Pins is recommended as not merely a love arcade but also a pin puzzle game with two-dimensional cartoon game art animation. Please use your wisdom to help them avoid these dangers and traps!
Gameplay of Love Pins
Love Pins offers a delightful gaming experience that combines the elements of a love arcade with two-dimensional cartoon-style animations. Players must use their wisdom and problem-solving skills to help the characters navigate through a series of challenges, dangers, and cleverly designed traps. The game's engaging puzzles require thoughtful consideration and precise decision-making to ensure the characters' love story can progress without mishaps. As you advance, the levels become increasingly complex, putting your analytical abilities to the test. Dive into the charming world of Love Pins, where your strategic thinking will pave the way for a successful love story.
Features of Love Pins
Unique Blend: Love arcade meets pin puzzle for a distinctive gaming experience.
Cartoon Animation: Enjoy charming two-dimensional cartoon-style visuals.
Dangers and Traps: Navigate characters through challenging levels filled with obstacles.
Puzzle Challenges: Exercise your problem-solving skills with engaging puzzles.
Love Story Progression: Ensure the characters' love story advances smoothly.
Play Love Pins online for free in Chrome, Edge and modern Web Browsers.
Tips and Strategies for Love Pins
Analyze Carefully: Examine each level's layout before making decisions.
Prioritize Safety: Ensure the characters' safety by avoiding dangers and traps.
Strategic Moves: Plan your moves to create a clear path for the characters.
Trial and Error: Don't be afraid to experiment with different solutions.
Patience and Precision: Steady, precise moves lead to successful love stories in Love Pins.
In Summary
Love Pins combines a love arcade with a pin puzzle game, challenging players to guide characters through obstacles and traps while progressing in their love story. Play Love Pins online on Chrome, Edge or other modern browsers and enjoy the fun.

GameComets brings together the most popular games, including the highly addictive Love Pins and a host of other trending free online games that promise to take your gaming journey to the next level.

Our carefully curated collection of games is designed to promote relaxation, and playing Love Pins online on our platform is the perfect way to de-stress and improve your mental well-being.
Platforms
Experience the thrill of the popular game Love Pins like never before with our free online version! Whether you're on a Chromebook, laptop, desktop or PC running Windows, you can now enjoy this game to your heart's content.

At our platform, we understand the importance of seamless gameplay. That's why we tested Love Pins game extensively on Chrome, Edge, and Firefox, and made sure it works faultlessly across all of today's most popular web browsers. You may play this game anytime you choose, from any location.
How to Play Love Pins
Assess each level's layout to identify dangers and traps.
Use your wisdom and strategic thinking to make moves that ensure the characters' safety.
Navigate through the challenges and obstacles to help the love story progress.
Immerse yourself in the world of Love Pins, where your clever puzzle-solving skills will pave the way for a successful romance.