Goolgames.com >
Sports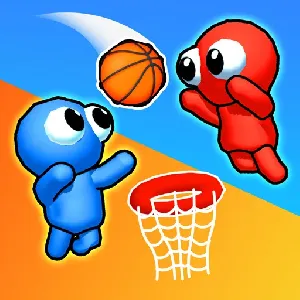 Basket Rush is an exciting basketball game that puts your shooting skills to the test, offering multiple levels with varying difficulty and basket movement modes.
×
Related Games
ALL
Basket Rush
About Basket Rush
Hey guys! Welcome to Basket Rush, a cool game that lets you become a basketball master! Basket Rush offers multiple challenging levels, each with different difficulty and basket movement modes. Are you ready to challenge your shooting skills? Come and join me in shooting countless wonderful basketballs!
Gameplay of Basket Rush
Step onto the basketball court and embrace the challenge of Basket Rush! This thrilling game invites you to become a basketball master by testing your shooting skills in a variety of scenarios. With multiple levels at your disposal, each featuring distinct difficulties and basket movement modes, the game promises a dynamic and engaging experience. As you progress through the levels, you'll face increasingly exciting and demanding shooting challenges, where precision and accuracy are your keys to success. Get ready to sink countless wonderful basketballs and prove your prowess on the court. The question is, are you up for the challenge?
Features of Basket Rush
Challenging Levels: Experience a range of challenging levels, each offering unique difficulties.
Dynamic Basket Movement: Navigate your shots through baskets with varying movement patterns.
Shooting Skills: Put your basketball shooting skills to the test and improve your precision.
Fun and Engaging: Basket Rush provides an entertaining and competitive basketball experience.
Endless Fun: Conquer each level, challenge yourself, and enjoy endless fun on the virtual court.
Play Basket Rush online for free in Chrome, Edge and modern Web Browsers.
Tips and Strategies for Basket Rush
Focus and Precision: Pay close attention to the movement of the basket and time your shots accurately.
Practice Regularly: As the levels get more challenging, practice is essential to improve your skills.
Adapt to Challenges: Be prepared to adapt your shooting techniques to changing basket movement.
Master the Levels: Progress through each level by honing your skills and mastering the game's challenges.
Enjoy the Game: Most importantly, have fun while playing Basket Rush and embrace the thrill of mastering the art of basketball shooting.
In Summary
Basket Rush is an engaging basketball game that invites players to take on the role of a basketball master. With multiple levels and dynamic basket movement, it's a game of precision and skill that promises endless entertainment. Play Basket Rush online on Chrome, Edge or other modern browsers and enjoy the fun.

GameComets brings together the most popular games, including the highly addictive Basket Rush and a host of other trending free online games that promise to take your gaming journey to the next level.

Our carefully curated collection of games is designed to promote relaxation, and playing Basket Rush online on our platform is the perfect way to de-stress and improve your mental well-being.
Platforms
Experience the thrill of the popular game Basket Rush like never before with our free online version! Whether you're on a Chromebook, laptop, desktop or PC running Windows, you can now enjoy this game to your heart's content.

At our platform, we understand the importance of seamless gameplay. That's why we tested Basket Rush game extensively on Chrome, Edge, and Firefox, and made sure it works faultlessly across all of today's most popular web browsers. You may play this game anytime you choose, from any location.
How to Play Basket Rush
Choose your level and difficulty to start your Basket Rush adventure.
Pay attention to the movement of the basket, which may change in speed and direction.
Aim your shots with precision and timing to successfully score baskets.
Challenge your own skills and conquer each level in this exciting journey to become a basketball master.