Goolgames.com >
Racing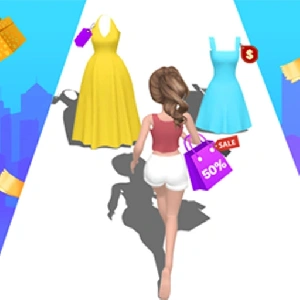 Black Friday Rush offers the excitement of shopping and incredible deals, allowing players to experience the frenzy of Black Friday anytime.
×
Related Games
ALL
Black Friday Rush
About Black Friday Rush
Do you love shopping and the excitement of getting amazing deals? Look no further than "Black Friday Rush"!This exciting game allows you to experience the thrill of the Black Friday shopping frenzy right from the comfort of your own device. Get ready to experience the thrill of Black Friday, no matter the time of year, with this exciting, action-packed game. Happy shopping and may the best shopper win!
Gameplay of Black Friday Rush
Get ready for the ultimate shopping thrill with Black Friday Rush! This exhilarating game lets you dive into the heart of Black Friday, where the excitement of finding amazing deals comes to life on your device. Shop to your heart's content, navigate bustling stores, and compete with other shoppers to secure the best discounts and prizes. Whether it's the middle of November or the height of summer, Black Friday Rush ensures you can relish the Black Friday frenzy year-round. Prepare to indulge in retail therapy, sharpen your shopping skills, and strive to become the best shopper in this action-packed game.
Features of Black Friday Rush
Black Friday Shopping Frenzy: Experience the thrill of Black Friday shopping at any time.
Shop and Compete: Compete with other shoppers to grab the best deals and prizes.
Diverse Stores: Navigate through bustling stores offering a variety of products.
Discount Hunt: Search for incredible discounts and exclusive items.
Year-Round Fun: Enjoy the Black Friday excitement whenever you please in Black Friday Rush.
Play Black Friday Rush online for free in Chrome, Edge and modern Web Browsers.
Tips and Strategies for Black Friday Rush
Prioritize Deals: Focus on grabbing the best deals and limited-time offers.
Speed Matters: Navigate through stores swiftly to secure discounts before others.
Plan Your Shopping Route: Map out a strategic shopping route for maximum efficiency.
Watch for Specials: Keep an eye out for exclusive items and hidden treasures.
Outshop the Competition: Sharpen your shopping skills to become the ultimate Black Friday shopper.
In Summary
Black Friday Rush brings the excitement of Black Friday shopping to your device, allowing you to compete for deals and discounts year-round. Play Black Friday Rush online on Chrome, Edge or other modern browsers and enjoy the fun.

GameComets brings together the most popular games, including the highly addictive Black Friday Rush and a host of other trending free online games that promise to take your gaming journey to the next level.

Our carefully curated collection of games is designed to promote relaxation, and playing Black Friday Rush online on our platform is the perfect way to de-stress and improve your mental well-being.
Platforms
Experience the thrill of the popular game Black Friday Rush like never before with our free online version! Whether you're on a Chromebook, laptop, desktop or PC running Windows, you can now enjoy this game to your heart's content.

At our platform, we understand the importance of seamless gameplay. That's why we tested Black Friday Rush game extensively on Chrome, Edge, and Firefox, and made sure it works faultlessly across all of today's most popular web browsers. You may play this game anytime you choose, from any location.
How to Play Black Friday Rush
Begin your shopping adventure and explore diverse stores.
Grab deals, compete with fellow shoppers, and aim for exclusive prizes.
Plan your shopping strategy, move swiftly, and make the most of Black Friday Rush.
Enjoy the thrill of Black Friday shopping anytime, striving to become the ultimate shopper in this action-packed game.