Goolgames.com >
Racing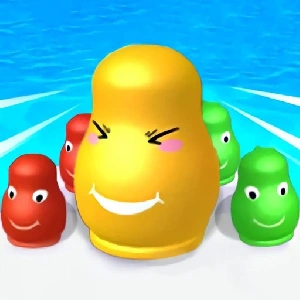 Experience the thrill of bottle-running in "Bottle Rush 3D," a free online game where you control merging bottles to reach the finish line.
×
Related Games
ALL
Bottle Rush 3D
About Bottle Rush 3D
Bottle Rush 3D is a free online running game for boys. In the game, you only need to control the bottles to move forward. Select the bottles of the same color in front to merge and enlarge yourself. You have to avoid all kinds of obstacles to make the bottle reach the finish line safely. Play on Mobile, Tablet, or Desktop!
Gameplay of Bottle Rush 3D
In "Bottle Rush 3D," you'll embark on a fast-paced bottle-rolling adventure. Your mission is to skillfully control the movement of the bottles and merge those of the same color to create larger, more powerful bottles. As you progress, you must navigate through a myriad of obstacles that stand in your path, ensuring the safe passage of your bottle to the finish line. This challenging and addictive game provides endless fun as you race against time and hurdles. Whether on your mobile device, tablet, or desktop, you can enjoy the excitement of "Bottle Rush 3D."
Features of Bottle Rush 3D
Unique Concept: Control and merge bottles to advance and tackle obstacles.
Merging Mechanics: Combine bottles of the same color to grow and overcome challenges.
Thrilling Obstacles: Encounter a variety of obstacles as you race to the finish.
Endless Excitement: Enjoy an unlimited number of levels and bottle-rolling fun.
Multi-Platform Play: Experience the bottle-rushing adventure on Mobile, Tablet, or Desktop.
Play Bottle Rush 3D online for free in Chrome, Edge and modern Web Browsers.
Tips and Strategies for Bottle Rush 3D
Precise Control: Master bottle movement to navigate tricky terrains.
Color Coordination: Merge bottles strategically to clear obstacles effectively.
Time Management: Keep an eye on the clock to improve your speed and performance.
Path Planning: Plot the safest course to ensure your bottle's safe arrival at the finish.
Endurance and Patience: As levels get tougher, stay determined for success.
In Summary
"Bottle Rush 3D" offers a unique bottle-rolling experience where you must merge bottles and navigate obstacles to reach the finish line.. Play Bottle Rush 3D online on Chrome, Edge or other modern browsers and enjoy the fun.

GameComets brings together the most popular games, including the highly addictive Bottle Rush 3D and a host of other trending free online games that promise to take your gaming journey to the next level.

Our carefully curated collection of games is designed to promote relaxation, and playing Bottle Rush 3D online on our platform is the perfect way to de-stress and improve your mental well-being.
Platforms
Experience the thrill of the popular game Bottle Rush 3D like never before with our free online version! Whether you're on a Chromebook, laptop, desktop or PC running Windows, you can now enjoy this game to your heart's content.

At our platform, we understand the importance of seamless gameplay. That's why we tested Bottle Rush 3D game extensively on Chrome, Edge, and Firefox, and made sure it works faultlessly across all of today's most popular web browsers. You may play this game anytime you choose, from any location.
How to Play Bottle Rush 3D
Launch "Bottle Rush 3D" and select your preferred platform.
Control the bottles' movement and merge those with matching colors.
Skillfully dodge obstacles and race against time.
Strive for victory by safely guiding your bottle to the finish line in this thrilling 3D running game.