Goolgames.com >
Boys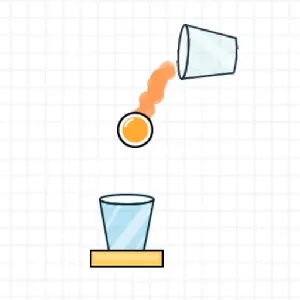 Rotated Cups is an exhilarating test of coordination and skill, where you control rotating cups to guide a ball into a bucket.
×
Related Games
ALL
Rotated Cups
About Rotated Cups
Ready for a thrilling test of coordination and skill? In the exciting Rotated Cups game, you have full control over the cups as you rotate them to guide the ball into the bucket. Challenge your dexterity, think strategically, and aim for victory! Start playing today and experience the thrill of controlling the cups to achieve the ultimate goal. Get ready to rotate, control, and conquer!
Gameplay of Rotated Cups
Rotated Cups offers a thrilling and challenging gaming experience that puts your dexterity and strategic thinking to the test. In this game, you have complete control over the rotation of cups, and your goal is to guide a ball into the designated bucket. As you progress, the levels become progressively more intricate and demanding, requiring precise timing and clever cup manipulation. The excitement builds as you conquer each level, enhancing your coordination and problem-solving skills. It's a game that promises an addictive and rewarding journey of mastering the art of cup control.
Features of Rotated Cups
Challenging levels with increasing complexity and creativity.
Precise cup rotation mechanics for a unique gaming experience.
Strategic thinking and dexterity testing gameplay.
Engaging and vibrant visuals to keep you immersed.
Competitive scoring system to challenge your skills and compete with friends.
Play Rotated Cups online for free in Chrome, Edge and modern Web Browsers.
Tips and Strategies for Rotated Cups
Focus on the timing and angle of cup rotations to guide the ball accurately.
Plan your moves carefully, especially in more intricate levels.
Adapt to the increasing complexity by staying patient and determined.
Aim to complete each level with the fewest rotations for high scores.
Challenge friends to beat your records and aim for victory together.
In Summary
Rotated Cups is a thrilling coordination and skill-testing game where you control rotating cups to guide a ball into a bucket. With its challenging levels and competitive scoring, it's a game that promises an exhilarating and engaging experience. Play Rotated Cups online on Chrome, Edge or other modern browsers and enjoy the fun.

GameComets brings together the most popular games, including the highly addictive Rotated Cups and a host of other trending free online games that promise to take your gaming journey to the next level.

Our carefully curated collection of games is designed to promote relaxation, and playing Rotated Cups online on our platform is the perfect way to de-stress and improve your mental well-being.
Platforms
Experience the thrill of the popular game Rotated Cups like never before with our free online version! Whether you're on a Chromebook, laptop, desktop or PC running Windows, you can now enjoy this game to your heart's content.

At our platform, we understand the importance of seamless gameplay. That's why we tested Rotated Cups game extensively on Chrome, Edge, and Firefox, and made sure it works faultlessly across all of today's most popular web browsers. You may play this game anytime you choose, from any location.
How to Play Rotated Cups
Control the rotation of cups to guide the ball into the bucket.
Pay attention to the timing and precision of your cup rotations.
Conquer increasingly complex levels, showcasing your dexterity and strategic thinking.
Start playing Rotated Cups today, aim for victory, and experience the thrill of mastering cup control in this exciting game!