Goolgames.com >
Boys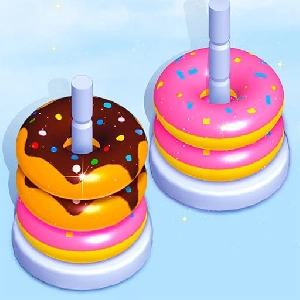 Donut Sort Fun 2 is a free online donut stacking and sorting game designed for boys, challenging players to arrange colorful donuts with logic and precision.
×
Related Games
ALL
Donut Sort Fun 2
About Donut Sort Fun 2
Donut Sort Fun is a free online game of donut stacking and sorting for boys. Donuts with different colors are strung on cylinders. You have to sort them according to their colors, change their order, and finally put the donuts with the same color together. The game will be simpler at first, but it will become more and more difficult later. Come and exercise your logical thinking!
Gameplay of Donut Sort Fun 2
Embark on a delightful journey of confectionery logic in Donut Sort Fun 2! This online game presents a captivating challenge where an array of donuts, each adorned with different colors, dangles on cylindrical threads. Your task is to skillfully sort these delectable treats according to their colors, rearrange their sequence, and ultimately unite donuts of the same hue. While the game starts with straightforward levels, it progressively escalates in complexity, putting your logical thinking skills to the test. Engage in this entertaining and brain-teasing game to enhance your problem-solving abilities while savoring the sweet satisfaction of well-organized donuts!
Features of Donut Sort Fun 2
Colorful Donut Stacking: Sort and stack donuts by their vibrant colors.
Gradually Increasing Challenge: Start with simpler levels and face progressively harder puzzles.
Precision and Logic: Enhance your logical thinking and problem-solving skills as you tackle each level.
Engaging Gameplay: Enjoy the satisfying task of arranging sweet donuts to perfection.
Fun and Educational: Exercise your mind while indulging in a delightful donut-themed adventure.
Play Donut Sort Fun 2 online for free in Chrome, Edge and modern Web Browsers.
Tips and Strategies for Donut Sort Fun 2
Begin by identifying the color pattern and the order of the donuts.
Strategically select donuts to move and create groupings of the same-colored treats.
Anticipate how your moves will impact the overall arrangement, especially in advanced levels.
Carefully plan your actions to minimize unnecessary shuffling of the donuts.
Stay patient and focused as you tackle more intricate donut sorting challenges.
In Summary
Donut Sort Fun 2 is a captivating online game that combines the love of colorful donuts with a mental challenge. Progress through increasingly complex levels, and sharpen your logical thinking while sorting and stacking these delightful pastries. Play Donut Sort Fun 2 online on Chrome, Edge or other modern browsers and enjoy the fun.

GameComets brings together the most popular games, including the highly addictive Donut Sort Fun 2 and a host of other trending free online games that promise to take your gaming journey to the next level.

Our carefully curated collection of games is designed to promote relaxation, and playing Donut Sort Fun 2 online on our platform is the perfect way to de-stress and improve your mental well-being.
Platforms
Experience the thrill of the popular game Donut Sort Fun 2 like never before with our free online version! Whether you're on a Chromebook, laptop, desktop or PC running Windows, you can now enjoy this game to your heart's content.

At our platform, we understand the importance of seamless gameplay. That's why we tested Donut Sort Fun 2 game extensively on Chrome, Edge, and Firefox, and made sure it works faultlessly across all of today's most popular web browsers. You may play this game anytime you choose, from any location.
How to Play Donut Sort Fun 2
Click on a donut to select it.
Click on another donut to swap their positions.
Strategically rearrange the donuts to group them by color.
Continue to solve each level by logically sorting and stacking the donuts, adapting to the growing complexity as you progress.