Goolgames.com >
Boys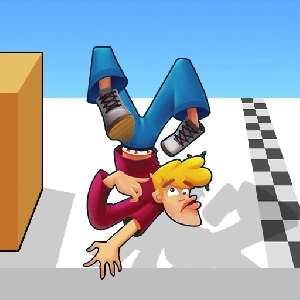 Fail Run Online is a captivating casual game that challenges players to navigate a path fraught with obstacles. It's a test of balance and patience, echoing the age-old wisdom that even a thousand-mile journey begins with a single step.
×
Related Games
ALL
Fail Run Online
About Fail Run Online
Fail Run Online is an enchanting casual game. As the saying goes, a journey of a thousand miles begins with a single step. It is not that simple to make every step in a well-balanced manner. This game will not only help you appreciate your own gait in reality but also train your patience as you adjust the step for the character in the game not to stumble. Are you ready to press forward to the terminus step by step?
Gameplay of Fail Run Online
In Fail Run Online, players embark on a journey filled with perilous pitfalls. The objective is to ensure that the character takes each step without stumbling. The game offers a unique blend of challenge and amusement, prompting players to appreciate their real-life coordination and patience. Can you lead your character step by step to the final destination without failure?
Features of Fail Run Online
Addictive Casual Gaming Experience
Challenging Obstacle Course
Balance and Coordination Testing
Engaging Gameplay for All Ages
Play Fail Run Online online for free in Chrome, Edge and modern Web Browsers.
Tips and Strategies for Fail Run Online
Focus on Timing: Master the art of stepping at the right moment.
Balance Matters: Keep your character upright by adjusting your step.
Plan Ahead: Anticipate upcoming obstacles.
Practice Patience: Stay calm when things get tricky.
Keep Trying: Don't be discouraged by failures; practice makes perfect.
In Summary
Fail Run Online is an addictive casual game that tests your balance and patience on a journey filled with obstacles. Perfect your steps to reach the final destination, enjoying a fun and challenging experience. Play Fail Run Online online on Chrome, Edge or other modern browsers and enjoy the fun.

GameComets brings together the most popular games, including the highly addictive Fail Run Online and a host of other trending free online games that promise to take your gaming journey to the next level.

Our carefully curated collection of games is designed to promote relaxation, and playing Fail Run Online online on our platform is the perfect way to de-stress and improve your mental well-being.
Platforms
Experience the thrill of the popular game Fail Run Online like never before with our free online version! Whether you're on a Chromebook, laptop, desktop or PC running Windows, you can now enjoy this game to your heart's content.

At our platform, we understand the importance of seamless gameplay. That's why we tested Fail Run Online game extensively on Chrome, Edge, and Firefox, and made sure it works faultlessly across all of today's most popular web browsers. You may play this game anytime you choose, from any location.
How to Play Fail Run Online
Choose your character and level.
Tap or use on-screen controls to take steps, avoiding obstacles.
Balance your character by adjusting your steps.
Progress through levels, and strive to reach the finish line without falling. Can you conquer the challenging path?