Goolgames.com >
Boys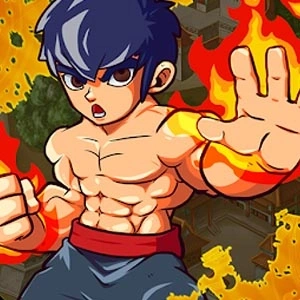 Fighter King offers intense combat action with smooth hitting movements, challenging players to showcase their fighting skills in the arena.
×
Related Games
ALL
Fighter King
About Fighter King
Smooth hitting movements, punches to the flesh, come and show your skills!
Gameplay of Fighter King
Welcome to Fighter King, where you'll experience the ultimate combat challenge with smooth and responsive hitting movements. Step into the arena as a skilled fighter and engage in thrilling battles against formidable opponents. Your goal is to prove your martial prowess by delivering precise punches and combos, testing your combat skills to the fullest. The game offers an array of challenging opponents, each with unique fighting styles and abilities, ensuring an exciting and varied experience. With stunning graphics and immersive gameplay, Fighter King guarantees intense combat action and an opportunity to demonstrate your fighting expertise.
Features of Fighter King
Intense Combat: Engage in thrilling battles with responsive hitting movements.
Challenging Opponents: Face formidable adversaries with diverse fighting styles.
Precision Strikes: Showcase your martial arts skills with precise punches and combos.
Immersive Graphics: Enjoy stunning visuals that enhance the gaming experience.
Martial Arts Mastery: Test and improve your combat abilities in the arena.
Play Fighter King online for free in Chrome, Edge and modern Web Browsers.
Tips and Strategies for Fighter King
Practice Timing: Master the timing of your hits for effective combos.
Learn Opponent Patterns: Study your adversaries' movements and weaknesses.
Block and Counter: Use defensive maneuvers to counter enemy attacks.
Upgrade Skills: Invest in skill upgrades to enhance your fighting abilities.
Stay Agile: Maintain agility and adapt to different combat scenarios.
In Summary
Fighter King offers an intense combat experience with smooth hitting movements and challenging opponents. Showcase your martial arts skills in thrilling battles and become the ultimate fighter in the arena. Play Fighter King online on Chrome, Edge or other modern browsers and enjoy the fun.

GameComets brings together the most popular games, including the highly addictive Fighter King and a host of other trending free online games that promise to take your gaming journey to the next level.

Our carefully curated collection of games is designed to promote relaxation, and playing Fighter King online on our platform is the perfect way to de-stress and improve your mental well-being.
Platforms
Experience the thrill of the popular game Fighter King like never before with our free online version! Whether you're on a Chromebook, laptop, desktop or PC running Windows, you can now enjoy this game to your heart's content.

At our platform, we understand the importance of seamless gameplay. That's why we tested Fighter King game extensively on Chrome, Edge, and Firefox, and made sure it works faultlessly across all of today's most popular web browsers. You may play this game anytime you choose, from any location.
How to Play Fighter King
Select your fighter and step into the arena to face challenging opponents.
Use responsive hitting movements to deliver precise punches and combos.
"Study opponent patterns, block, and counter their attacks to gain an advantage.
With practice and skill upgrades, strive to become the undisputed Fighter King!