Goolgames.com >
Racing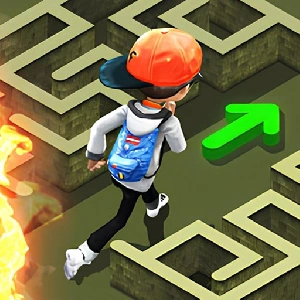 Temple Maze is an exhilarating time-limited game that challenges players to guide characters to the exit, earning coins to unlock additional levels.
×
Related Games
ALL
Temple Maze
About Temple Maze
Help the characters find the exit as quickly as possible in a time-limited game that gives you the appropriate coins at the end of each level to unlock more levels. There are many modes in this game. Come on and start your adventure.
Gameplay of Temple Maze
Temple Maze offers a pulse-pounding gaming experience, tasking players with a race against time to help characters navigate intricate mazes and reach the exit. Each successfully completed level rewards players with valuable coins, which can be used to unlock a plethora of additional challenging levels. With a variety of game modes to choose from, Temple Maze promises endless adventure and excitement for players of all skill levels. Are you ready to embark on this thrilling journey through treacherous mazes and unlock the mysteries within?
Features of Temple Maze
Time-Limited Challenges: Race against the clock to find the exit in a series of dynamic mazes.
Coin Rewards: Earn coins at the end of each level, allowing you to unlock more intriguing mazes.
Multiple Game Modes: Explore various modes for diverse and engaging gameplay experiences.
Adventurous Exploration: Dive into the heart of temple mazes, solving puzzles and conquering obstacles.
Endless Adventure: Discover an array of challenging levels that promise continuous excitement.
Play Temple Maze online for free in Chrome, Edge and modern Web Browsers.
Tips and Strategies for Temple Maze
Plan Your Route: Take a moment to assess the maze layout and strategize your path to the exit.
Utilize Time Wisely: Keep an eye on the timer and make efficient moves to reach the exit promptly.
Collect Coins: Gather as many coins as possible to unlock new levels and expand your adventure.
Master Maze Patterns: Pay attention to recurring maze patterns and adapt your strategy accordingly.
Stay Calm: Maintain your composure even under time pressure to make precise decisions and conquer the maze.
In Summary
Temple Maze is a thrilling time-limited game where players must guide characters through intricate mazes to find the exit, all while collecting coins to unlock more challenging levels. Play Temple Maze online on Chrome, Edge or other modern browsers and enjoy the fun.

GameComets brings together the most popular games, including the highly addictive Temple Maze and a host of other trending free online games that promise to take your gaming journey to the next level.

Our carefully curated collection of games is designed to promote relaxation, and playing Temple Maze online on our platform is the perfect way to de-stress and improve your mental well-being.
Platforms
Experience the thrill of the popular game Temple Maze like never before with our free online version! Whether you're on a Chromebook, laptop, desktop or PC running Windows, you can now enjoy this game to your heart's content.

At our platform, we understand the importance of seamless gameplay. That's why we tested Temple Maze game extensively on Chrome, Edge, and Firefox, and made sure it works faultlessly across all of today's most popular web browsers. You may play this game anytime you choose, from any location.
How to Play Temple Maze
Use intuitive controls to navigate characters through complex temple mazes.
Your goal is to locate the exit within a set time limit for each level.
Gather coins as you progress to access additional levels and game modes.
Embark on an adventure through Temple Maze, test your puzzle-solving skills, and aim to conquer every maze in record time!