Goolgames.com >
Racing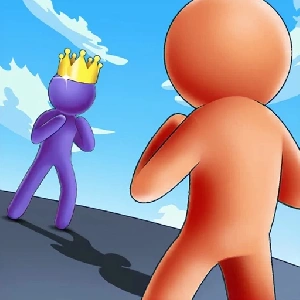 Giant Rush Online is a captivating free online game designed for boys, offering a blend of thrilling running and exciting battle gameplay.
×
Related Games
ALL
Giant Rush Online
About Giant Rush Online
Giant Rush Online is an interesting online game for boys for free. You can not only experience the most thrilling running games but also play battle games. Your task is to collect different kinds of fruits on the platform. Every time you collect a kind of fruit, your color will change according to the fruit. Be careful not to eat other different kinds of fruits!
Gameplay of Giant Rush Online
Dive into the action-packed world of Giant Rush Online, where you'll experience the excitement of both running and battling games. Your mission is to gather a variety of fruits scattered across the platform. Each fruit you collect changes your character's color to match the fruit. But beware, consuming different fruits can have adverse effects! Avoid the wrong fruits to stay in the game. With each collected fruit, you transform and adapt to new challenges. Navigate through the platform, gather fruits, and compete against others in this thrilling online adventure.
Features of Giant Rush Online
Engaging mix of running and battle gameplay.
Color-changing characters based on collected fruits.
Fast-paced and dynamic challenges.
Play for free and enjoy endless fun.
Suitable for boys seeking thrilling online adventures.
Play Giant Rush Online online for free in Chrome, Edge and modern Web Browsers.
Tips and Strategies for Giant Rush Online
Plan your route carefully to collect matching fruits.
Keep an eye on your character's color to avoid unwanted changes.
Be strategic in your movements to outmaneuver opponents.
Embrace the ever-changing gameplay dynamics.
Collaborate with friends for competitive fun in Giant Rush Online.
In Summary
Giant Rush Online is a captivating online game that combines running and battling, offering endless excitement and challenges. Collect fruits, change your character's color, and strive to outplay your rivals in this thrilling adventure. Play Giant Rush Online online on Chrome, Edge or other modern browsers and enjoy the fun.

GameComets brings together the most popular games, including the highly addictive Giant Rush Online and a host of other trending free online games that promise to take your gaming journey to the next level.

Our carefully curated collection of games is designed to promote relaxation, and playing Giant Rush Online online on our platform is the perfect way to de-stress and improve your mental well-being.
Platforms
Experience the thrill of the popular game Giant Rush Online like never before with our free online version! Whether you're on a Chromebook, laptop, desktop or PC running Windows, you can now enjoy this game to your heart's content.

At our platform, we understand the importance of seamless gameplay. That's why we tested Giant Rush Online game extensively on Chrome, Edge, and Firefox, and made sure it works faultlessly across all of today's most popular web browsers. You may play this game anytime you choose, from any location.
How to Play Giant Rush Online
Control your character's movements using intuitive touch controls.
Gather fruits to change your character's color and abilities.
Avoid consuming different fruits to stay in the game.
Join the online fun for free and embrace the unique challenges of Giant Rush Online!