Goolgames.com >
Girls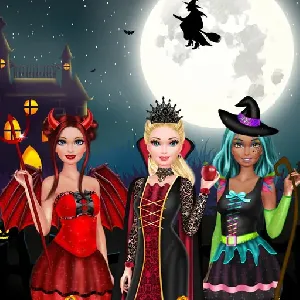 Halloween Salon is a delightful online makeup simulation game designed especially for girls, offering a range of spa, makeup, and dressing services.
×
Related Games
ALL
Halloween Salon
About Halloween Salon
Halloween Salon is a free online makeup simulation game for girls. In the Halloween salon, we have different services: Spa, makeup salon, and dressing. You can choose the figure and her hair, clean her face, and use your imagination to dress her up. Unique screen designs and Halloween costumes are waiting for you to choose from. Play on Mobile, Tablet, or Desktop.
Gameplay of Halloween Salon
Prepare to immerse yourself in the enchanting world of Halloween Salon, a makeup simulation game created with girls in mind. This game offers a trio of essential services to bring out your creativity: spa treatments, makeup application, and dressing up your chosen character. Begin by selecting the figure and her hair, followed by cleansing her face, and then let your imagination run wild as you curate her perfect Halloween look. This game boasts unique screen designs and a delightful array of Halloween costumes, providing you with the ultimate opportunity to experiment with your makeup and style skills. Enjoy this experience on your Mobile, Tablet, or Desktop device.
Features of Halloween Salon
All-In-One Salon: Halloween Salon combines spa, makeup, and dressing services to cater to your creativity.
Character Customization: Choose your character and style her hair to your liking, setting the stage for a stunning transformation.
Spa Experience: Pamper your character with spa treatments to achieve the perfect canvas for makeup.
Makeup Magic: Unleash your imagination as you apply makeup, experimenting with Halloween-themed looks.
Costume Collection: Explore a wide range of Halloween costumes to dress your character in the most captivating outfits.
Play Halloween Salon online for free in Chrome, Edge and modern Web Browsers.
Tips and Strategies for Halloween Salon
Begin with Spa: Ensure your character's face is clean and glowing by indulging in the spa services.
Creative Makeup: Experiment with makeup options to create unique Halloween looks, from spooky to glamorous.
Mix and Match: Explore various hairstyles and costumes to find the perfect combination.
Attention to Detail: Pay attention to the intricate Halloween costumes to make the character stand out.
Express Yourself: Let your creativity shine, and enjoy the process of giving your character an enchanting Halloween makeover.
In Summary
Halloween Salon is an immersive online makeup simulation game designed for girls, offering spa treatments, creative makeup, and an array of Halloween costumes for a spooktacular transformation. Play Halloween Salon online on Chrome, Edge or other modern browsers and enjoy the fun.

GameComets brings together the most popular games, including the highly addictive Halloween Salon and a host of other trending free online games that promise to take your gaming journey to the next level.

Our carefully curated collection of games is designed to promote relaxation, and playing Halloween Salon online on our platform is the perfect way to de-stress and improve your mental well-being.
Platforms
Experience the thrill of the popular game Halloween Salon like never before with our free online version! Whether you're on a Chromebook, laptop, desktop or PC running Windows, you can now enjoy this game to your heart's content.

At our platform, we understand the importance of seamless gameplay. That's why we tested Halloween Salon game extensively on Chrome, Edge, and Firefox, and made sure it works faultlessly across all of today's most popular web browsers. You may play this game anytime you choose, from any location.
How to Play Halloween Salon
Enter the enchanting world of Halloween Salon and choose your character.
Begin the makeover process with a spa session, cleansing and pampering your character's face.
Express your artistic flair through creative makeup and choose the perfect hairstyle and Halloween costume.
Enjoy hours of Halloween-themed makeup and dressing fun on your Mobile, Tablet, or Desktop device.