Goolgames.com >
Girls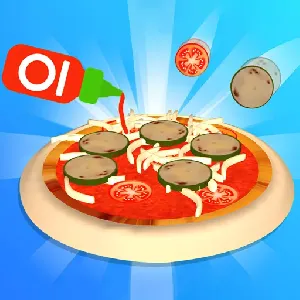 Happy Pizzaiolo! is a vibrant and immersive casual game that allows players to experience the joy of making and selling delicious pizzas.
×
Related Games
ALL
Happy Pizzaiolo!
About Happy Pizzaiolo!
Happy Pizzaiolo is an easy and fun casual game. You'll play in a brightly colored pizzeria, surrounded by cute tourists and a lively scene. Both the pizza-making action in the game and the customer's reaction are designed to be very realistic and immersive. It allows you to enjoy the fun of making real pizza. You can turn on the game anytime and dive into the joy of pizza making. And feel the satisfaction of successfully completing each level.
What are the features of the game?
This is a unique little game. Different from ordinary casual games, as a pizza master, you will make delicious pizza for customers. You will face different challenges, including how to make pizza with the same ingredients quickly. The game mechanics are innovative and challenging to keep you entertained. The game also has idle gameplay. When you are offline, you can realize your dream of making money lying down by taking out pizza. You can use the rewards you earn to unlock new skins to make your pizza even more unique!
Easy and fun gameplay.
Use the mouse or slide to control. You can experience the whole process from kneading dough, and laying ingredients, to baking pizza. The game operation is simple and clear, suitable for players of all ages. The difficulty of the game is gradually increasing. New ingredients and challenges are constantly presented to keep your interest. Bringing you endless fun experiences.
Play now and enjoy a fun, and addicting online management simulator game.
This game is an innovative, fun, and free simulation business game. There are unique game mechanics, beautiful game graphics, and fun casual entertainment. You will get an endless joyful experience. Quickly open the game and become a happy pizza master! If you like the game Good Pizza, Great Pizza, and Papa's Pizzeria, you will certainly love this game.
Gameplay of Happy Pizzaiolo!
Step into the colorful world of Happy Pizzaiolo! as you become the master of a lively pizzeria bustling with adorable tourists. This easy and enjoyable casual game brings the art of pizza making to life, offering realistic and immersive pizza-making action. Craft pizzas, satisfy customers, and embrace the satisfaction of completing each level. The game's unique twist lies in its innovative mechanics, challenging you to create pizzas with similar ingredients rapidly. Additionally, it offers an idle gameplay option, enabling you to generate income even while offline by selling pizzas. Use your earnings to unlock new skins and make your pizza creations even more unique!
Features of Happy Pizzaiolo!
Realistic Pizza Making: Experience the fun and realism of crafting pizzas for hungry customers.
Innovative Challenges: Face unique challenges like quickly making pizzas with similar ingredients.
Idle Gameplay: Earn rewards while offline, making it easy to generate income for pizza upgrades.
Unlockable Skins: Personalize your pizzas with a variety of unlockable skins.
Beautiful and Immersive: Enjoy vibrant graphics and engaging casual entertainment.
Play Happy Pizzaiolo! online for free in Chrome, Edge and modern Web Browsers.
Tips and Strategies for Happy Pizzaiolo!
Pay attention to customers' orders and aim to make pizzas that match their requests.
As the game progresses, adapt to the increasing complexity of pizza combinations.
Utilize the idle gameplay option to earn extra income even when you're not actively playing.
Invest your rewards wisely to unlock unique pizza skins, enhancing your pizzeria's appeal.
Keep an eye on customer satisfaction to ensure success and progress in the game.
In Summary
Happy Pizzaiolo! is a delightful and innovative pizza-making simulation game that provides endless enjoyment. With realistic gameplay, unique challenges, and an idle mode, it's perfect for players of all ages who enjoy running a virtual pizzeria. Play Happy Pizzaiolo! online on Chrome, Edge or other modern browsers and enjoy the fun.

GameComets brings together the most popular games, including the highly addictive Happy Pizzaiolo! and a host of other trending free online games that promise to take your gaming journey to the next level.

Our carefully curated collection of games is designed to promote relaxation, and playing Happy Pizzaiolo! online on our platform is the perfect way to de-stress and improve your mental well-being.
Platforms
Experience the thrill of the popular game Happy Pizzaiolo! like never before with our free online version! Whether you're on a Chromebook, laptop, desktop or PC running Windows, you can now enjoy this game to your heart's content.

At our platform, we understand the importance of seamless gameplay. That's why we tested Happy Pizzaiolo! game extensively on Chrome, Edge, and Firefox, and made sure it works faultlessly across all of today's most popular web browsers. You may play this game anytime you choose, from any location.
How to Play Happy Pizzaiolo!
Use your mouse or touch controls to manage every aspect of pizza making, from dough to toppings.
Fulfill customer orders promptly and accurately to maximize your pizza business.
As the game advances, tackle more intricate pizza combinations and challenges.
Dive into the fun world of pizza creation and management, satisfying customers and becoming a happy pizza master.