Goolgames.com >
Hypercasual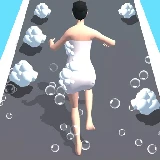 Dive into the bubbly excitement of Shower Run 3D, a captivating and free online parkour game designed for boys. Take control of a bubble-covered character on an exhilarating parkour adventure, collecting bath bubbles and navigating obstacles for a cleaner and high-scoring run.
×
Related Games
ALL
Shower Run 3D
About Shower Run 3D
Shower Run 3D is a fun and challenging parkour game that's perfect for casual players. In this game, you play as a character trying to collect bath bubbles while avoiding obstacles that block your progress. Be careful not to let the bubbles run out or you'll fail! But don't worry, you can choose superbubbles to start so you won't have to worry about making a mistake and failing. With 3D graphics and easy-to-use controls, Shower Run 3D is sure to provide hours of entertainment. Try it now and enjoy the fun of this exciting game!
Discover a world of exciting yad.com games for free at goolgames!
Gameplay of Shower Run 3D
Shower Run 3D offers an engaging gameplay experience where you guide your bubble-clad character through challenging parkour courses. Your mission is to gather bath bubbles while skillfully avoiding obstacles, ensuring your character stays fresh and racking up impressive scores.
Features of Shower Run 3D
Free Fun for Boys: Enjoy an entertaining online parkour game designed specifically for boys.
Bubbly Challenge: Control a character covered in bubbles as you embark on thrilling parkour runs.
Bath Bubble Bonanza: Collect bath bubbles to maintain your character's cleanliness and vitality.
Obstacle Avoidance: Navigate through a variety of obstacles to test your parkour skills.
Score Triumph: Strive for high scores and compete for the top spot in the leaderboards.
Play Shower Run 3D online for free in Chrome, Edge and modern Web Browsers.
Tips and Strategies for Shower Run 3D
Bubble Management: Keep an eye on your bath bubble supply to ensure a continuous and clean run.
Precise Movement: Hone your parkour skills to expertly maneuver around obstacles and maximize bubble collection.
Timing Matters: Perfect your timing for obstacle jumps and bubble pickups to boost your scores.
Compete with Friends: Challenge friends to beat your high score, fostering friendly competition.
In Summary
Shower Run 3D is a free and thrilling parkour game tailored for boys, offering bubble-filled challenges, obstacle-packed courses, and the pursuit of high scores.. Play Shower Run 3D online on Chrome, Edge or other modern browsers and enjoy the fun.

GameComets brings together the most popular games, including the highly addictive Shower Run 3D and a host of other trending free online games that promise to take your gaming journey to the next level.

Our carefully curated collection of games is designed to promote relaxation, and playing Shower Run 3D online on our platform is the perfect way to de-stress and improve your mental well-being.
Platforms
Experience the thrill of the popular game Shower Run 3D like never before with our free online version! Whether you're on a Chromebook, laptop, desktop or PC running Windows, you can now enjoy this game to your heart's content.

At our platform, we understand the importance of seamless gameplay. That's why we tested Shower Run 3D game extensively on Chrome, Edge, and Firefox, and made sure it works faultlessly across all of today's most popular web browsers. You may play this game anytime you choose, from any location.
How to Play Shower Run 3D
Begin by accessing Shower Run 3D, available for free online.
Take control of the bubble-covered character and start your parkour adventure.
Navigate through the course, collecting bath bubbles for cleanliness and points.
Skillfully dodge obstacles and aim for the highest score possible, challenging friends for leaderboard supremacy.