Goolgames.com >
Racing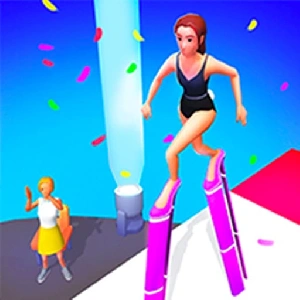 High Heels Online is a free-to-play online game that delivers thrilling and entertaining gameplay where high heels hold the key to success.
×
Related Games
ALL
High Heels Online
About High Heels Online
High Heels Online is an online game that you can play for free. High Heels Online is fun! The taller your heels are, the easier it will be to escape from the walls. A different obstacle awaits you at each level! There are rails on the roof where you have to spread your legs and slide, walls to jump, a stick to balance and a huge podium waiting for you at the end of the road. So, what are you waiting for? If you feel happy when playing our games, remember to share it with your friends. Have fun!
Gameplay of High Heels Online
Step into the stylish world of High Heels Online, an exciting free online game designed for fashion enthusiasts and thrill-seekers alike. In this addictive game, the height of your heels is your ticket to success. Taller heels make it easier to escape walls, but each level presents a unique obstacle course to conquer. You'll encounter challenges like sliding on rooftop rails, leaping over walls, maintaining balance on a stick, and reaching a grand podium at the journey's end. Don't wait any longer; embrace the excitement and embark on this high-heeled adventure. Share the fun with friends and revel in the joy of playing together!
Features of High Heels Online
Fashionable Fun: Enjoy a stylish and trendy gaming experience.
Heel Height Matters: The taller your heels, the easier your escape from obstacles.
Diverse Challenges: Navigate unique obstacles, from sliding on rooftops to balancing on sticks.
Thrilling Levels: Conquer exciting levels with a grand podium as your final destination.
Social Play: Share the joy of High Heels Online with your friends for even more fun!
Play High Heels Online online for free in Chrome, Edge and modern Web Browsers.
Tips and Strategies for High Heels Online
Experiment with Heel Heights: Adjust heel heights to tackle specific obstacles effectively.
Timing is Crucial: Precise timing is key for jumping, sliding, and balancing.
Learn from Each Attempt: Analyze your gameplay to improve and overcome challenges.
Collect Gems: Gather gems along the way to unlock stylish heels and characters.
Share the Fun: Invite friends to join the high-heeled adventure and compete for the highest scores.
In Summary
High Heels Online is a free-to-play online game where stylish high heels are your path to victory, offering exciting challenges and endless fun. Play High Heels Online online on Chrome, Edge or other modern browsers and enjoy the fun.

GameComets brings together the most popular games, including the highly addictive High Heels Online and a host of other trending free online games that promise to take your gaming journey to the next level.

Our carefully curated collection of games is designed to promote relaxation, and playing High Heels Online online on our platform is the perfect way to de-stress and improve your mental well-being.
Platforms
Experience the thrill of the popular game High Heels Online like never before with our free online version! Whether you're on a Chromebook, laptop, desktop or PC running Windows, you can now enjoy this game to your heart's content.

At our platform, we understand the importance of seamless gameplay. That's why we tested High Heels Online game extensively on Chrome, Edge, and Firefox, and made sure it works faultlessly across all of today's most popular web browsers. You may play this game anytime you choose, from any location.
How to Play High Heels Online
Control your character's heel height by touching and holding the screen.
Navigate through obstacle-filled levels, including slides, jumps, and balance beams.
Collect gems for customization and aim for a stylish podium finish.
Share the fashion-forward joy of High Heels Online with friends and compete for the highest scores.