Goolgames.com >
Puzzle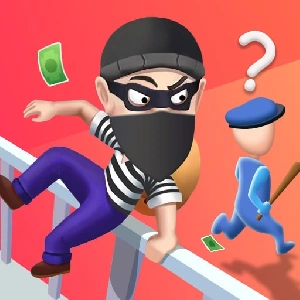 House Robber is a free online robbery-themed game where you take on the role of a daring thief, infiltrating homes to steal valuable goods.
×
Related Games
ALL
House Robber
About House Robber
House Robber is a free online game with the theme of a robbery for boys. In the game, you will play a robber, sneak into the house and steal all kinds of goods. Be careful to return after you get it, and don't be found by the security guard. Each level has its own scene, so you must be careful in stealing. The whole process is very exciting, are you confident to surpass it? Come and challenge!
Gameplay of House Robber
Prepare for the ultimate heist in House Robber, an exciting free online game with a robbery theme. Assume the identity of a skilled thief and embark on daring missions to infiltrate various houses in search of valuable loot. Your objective is to stealthily navigate each level, avoiding vigilant security guards and cameras while pilfering an array of goods. Each level offers a unique setting, presenting new challenges that require careful planning and execution. Can you outsmart security measures and make a clean getaway with the loot? House Robber promises an exhilarating experience full of suspense and excitement. Dare to take on the challenge?
Features of House Robber
Robbery Thrills: Immerse yourself in the exciting world of house burglary as you plan and execute heists.
Stealth Gameplay: Use stealth and cunning to navigate houses, avoiding detection by security guards and cameras.
Varied Challenges: Each level presents a different house layout and security setup, keeping the gameplay fresh and engaging.
Valuable Loot: Steal a wide range of valuable goods, from priceless artifacts to high-tech gadgets.
Heart-Pounding Escapes: Experience the thrill of escaping after each successful robbery without getting caught.
Play House Robber online for free in Chrome, Edge and modern Web Browsers.
Tips and Strategies for House Robber
Study the Layout: Familiarize yourself with each house's layout to plan your route.
Timing is Key: Pay attention to security guard patterns and camera rotations to find the perfect moment to strike.
Stay Quiet: Move quietly to avoid drawing attention to yourself while inside the house.
Observe Closely: Keep an eye on the loot's location and make a swift exit once you have what you came for.
Don't Get Caught: If detected, escape quickly and avoid direct confrontations with security guards.
In Summary
House Robber is an exhilarating free online game that lets you step into the shoes of a cunning thief, infiltrating houses and stealing valuable loot while avoiding security measures. Play House Robber online on Chrome, Edge or other modern browsers and enjoy the fun.

GameComets brings together the most popular games, including the highly addictive House Robber and a host of other trending free online games that promise to take your gaming journey to the next level.

Our carefully curated collection of games is designed to promote relaxation, and playing House Robber online on our platform is the perfect way to de-stress and improve your mental well-being.
Platforms
Experience the thrill of the popular game House Robber like never before with our free online version! Whether you're on a Chromebook, laptop, desktop or PC running Windows, you can now enjoy this game to your heart's content.

At our platform, we understand the importance of seamless gameplay. That's why we tested House Robber game extensively on Chrome, Edge, and Firefox, and made sure it works faultlessly across all of today's most popular web browsers. You may play this game anytime you choose, from any location.
How to Play House Robber
Select a level and enter the house as the daring house robber.
Use stealth to move around, avoiding guards and security cameras.
Collect valuable items and loot without getting detected.
Make a clean getaway to complete the mission in House Robber, but beware of security guards and alarms!