Goolgames.com >
Puzzle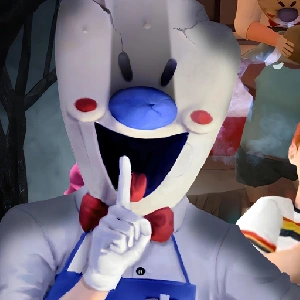 Ice Scream: Horror Escape
60%
Ice Scream: Horror Escape is a thrilling adventure puzzle game where you must rescue kidnapped friends from an evil ice cream truck driver.
×
Related Games
ALL
Ice Scream: Horror Escape
About Ice Scream: Horror Escape
Ice Scream: Horror Escape is an exciting and scary adventure puzzle game. One day morning, you saw your best friend being kidnapped by a strange man into the ice cream truck. You need to rescue children in danger and escape from the evil ice cream truck driver. Do you have the courage to take on the challenge?
What are the features of the game?
The game brings you a gripping story where you need to rescue your kidnapped friends. During this adventure, you need to solve puzzles, avoid the pursuit of evil ice cream truck drivers, and feel the thrill of escape. With impressive graphics and sound effects. The game scene is meticulous and the unique art style brings you a realistic horror atmosphere. Background music and sound effects add to the tension of the game and immerse players fully in the game.
Easy and fun gameplay.
The puzzle-solving mechanism in the game is very special. Players need to observe the environment and explore various rooms and locations. Find clues and hidden power-ups to solve puzzles and save friends and engage in elaborate battles with truckers. You need to focus, think of solutions, and act fast to avoid getting caught by the evil ice cream truck driver. Each level has new puzzles, and each puzzle is full of challenges. It requires flexible thinking and creativity to overcome various difficulties to escape successfully.
Play now and enjoy a fun, and addicting online puzzle game.
Ice Scream Horror Escape is a game not to be missed if you like adventure puzzle games and horror vibes. There are well-designed plots and diverse challenges. This game will bring you an unparalleled game experience. Come and challenge your wisdom and courage to save innocent children!
Gameplay of Ice Scream: Horror Escape
In Ice Scream: Horror Escape, you'll find yourself on a heart-pounding mission to save your best friend, who has been abducted by a sinister ice cream truck driver. This spine-chilling adventure challenges you to solve intricate puzzles, elude the relentless pursuit of the driver, and experience the exhilaration of a daring escape. The game's immersive graphics and spine-tingling sound effects create a realistic horror atmosphere, plunging you into a world of tension and suspense. As you progress, you'll encounter unique rooms and locations, each brimming with clues and hidden power-ups, demanding your keen observation and quick thinking to outsmart the ice cream truck driver.
Features of Ice Scream: Horror Escape
Gripping Storyline: Engage in a suspenseful narrative as you strive to rescue kidnapped friends.
Thrilling Escape Adventures: Solve puzzles and outmaneuver the evil ice cream truck driver to secure your freedom.
Immersive Graphics: Experience a meticulously detailed game world with a unique art style that enhances the horror atmosphere.
Eerie Sound Effects: The background music and sound effects intensify the game's tension, immersing you fully in the experience.
Varied Puzzles and Challenges: Each level presents new, challenging puzzles that demand creativity and quick thinking.
Play Ice Scream: Horror Escape online for free in Chrome, Edge and modern Web Browsers.
Tips and Strategies for Ice Scream: Horror Escape
Observe Closely: Pay attention to your surroundings and explore every nook and cranny to uncover vital clues.
Act Swiftly: The ice cream truck driver is relentless; act fast to stay one step ahead and avoid capture.
Puzzle Solving: Utilize your problem-solving skills to decipher puzzles and progress through the game.
Hidden Power-Ups: Keep an eye out for hidden power-ups that can aid your escape and uncover secrets.
Stay Alert: Be prepared for unexpected challenges in each level, and adapt your strategies accordingly.
In Summary
Ice Scream: Horror Escape is a suspenseful adventure puzzle game that plunges players into a nightmarish world where they must rescue kidnapped friends, solve puzzles, and evade a relentless ice cream truck driver. Play Ice Scream: Horror Escape online on Chrome, Edge or other modern browsers and enjoy the fun.

GameComets brings together the most popular games, including the highly addictive Ice Scream: Horror Escape and a host of other trending free online games that promise to take your gaming journey to the next level.

Our carefully curated collection of games is designed to promote relaxation, and playing Ice Scream: Horror Escape online on our platform is the perfect way to de-stress and improve your mental well-being.
Platforms
Experience the thrill of the popular game Ice Scream: Horror Escape like never before with our free online version! Whether you're on a Chromebook, laptop, desktop or PC running Windows, you can now enjoy this game to your heart's content.

At our platform, we understand the importance of seamless gameplay. That's why we tested Ice Scream: Horror Escape game extensively on Chrome, Edge, and Firefox, and made sure it works faultlessly across all of today's most popular web browsers. You may play this game anytime you choose, from any location.
How to Play Ice Scream: Horror Escape
Use intuitive controls to navigate through eerie environments, exploring rooms and locations for clues.
Solve intricate puzzles and riddles to unlock new areas and progress in your quest to save your friends.
Evade the ice cream truck driver's pursuit by acting swiftly and strategically to stay hidden.
Immerse yourself in the chilling atmosphere of Ice Scream: Horror Escape, and challenge your wit and courage to rescue innocent children!