Goolgames.com >
Boys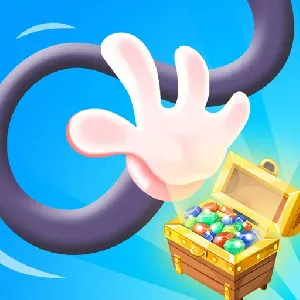 Long Hand Escape is a thrilling puzzle and casual game that tests your observation and reaction skills in an exciting plot.
×
Related Games
ALL
Long Hand Escape
About Long Hand Escape
Welcome to Long Hand Escape! This is a puzzle and casual game that allows you to challenge your observation and reaction abilities in an exciting plot. In this game, you need to stretch your hands to find the exit and free yourself. Your hands can extend and pass through obstacles, but be careful! When your hand touches an obstacle, it immediately retracts, which means you need to plan your movements carefully to avoid hitting the obstacle. In addition, you also need to always pay attention to the patrolling guards and do not be discovered by them, otherwise the game will end in failure. Come and try "Long Hand Escape", stretch your hands, find the exit, avoid obstacles and the attention of guards, challenge and save yourself! Have a great time and enjoy the fun and challenges!
Gameplay of Long Hand Escape
Long Hand Escape offers an engaging experience where you must stretch your hands to find the exit and free yourself. Your extendable hands can pass through obstacles, but beware: they retract upon touching obstacles. Careful planning and precise movements are crucial to avoid collisions. In addition to maneuvering through obstacles, you must also remain vigilant of patrolling guards to avoid detection, as discovery leads to failure. With an exciting plot, this game presents a unique challenge, testing your observation and reaction abilities. Stretch your hands, navigate obstacles, evade guards, and embark on a journey to save yourself.
Features of Long Hand Escape
Engaging plot-driven gameplay that keeps you on the edge.
Stretchable hands mechanic for unique puzzle-solving.
Strategic thinking and reaction skills are put to the test.
Guards add an element of suspense and challenge.
Competitive scoring system for replayability.
Play Long Hand Escape online for free in Chrome, Edge and modern Web Browsers.
Tips and Strategies for Long Hand Escape
Plan your hand movements carefully to avoid obstacles.
Keep an eye on the patrol patterns of guards to remain undetected.
Timing and precision are essential for successful escapes.
Experiment with different approaches to each level for better results.
Challenge yourself to achieve the highest scores and outwit the guards.
In Summary
Long Hand Escape is an intriguing puzzle and casual game that immerses you in an exciting plot. With unique hand-stretching mechanics, obstacle avoidance, and the challenge of avoiding guards, it's a game that promises to test your wits while providing hours of entertainment. Play Long Hand Escape online on Chrome, Edge or other modern browsers and enjoy the fun.

GameComets brings together the most popular games, including the highly addictive Long Hand Escape and a host of other trending free online games that promise to take your gaming journey to the next level.

Our carefully curated collection of games is designed to promote relaxation, and playing Long Hand Escape online on our platform is the perfect way to de-stress and improve your mental well-being.
Platforms
Experience the thrill of the popular game Long Hand Escape like never before with our free online version! Whether you're on a Chromebook, laptop, desktop or PC running Windows, you can now enjoy this game to your heart's content.

At our platform, we understand the importance of seamless gameplay. That's why we tested Long Hand Escape game extensively on Chrome, Edge, and Firefox, and made sure it works faultlessly across all of today's most popular web browsers. You may play this game anytime you choose, from any location.
How to Play Long Hand Escape
Use your stretchable hands to navigate through obstacles and find the exit.
Pay attention to guard patrols to remain undetected.
Plan your moves with precision to avoid obstacles and guards.
Enjoy the thrill of Long Hand Escape, challenge your skills, and work to free yourself in this captivating game.