Goolgames.com >
Racing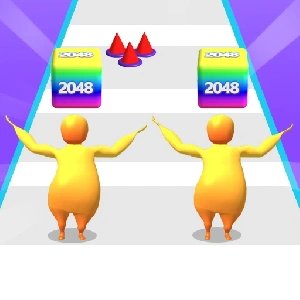 Merge Rush 2048 is a free parkour-style 2048 online game, specially designed for boys. Navigate obstacle-filled paths and merge digital squares.
×
Related Games
ALL
Merge Rush 2048
About Merge Rush 2048
Merge Rush 2048 is a parkour-style 2048 online game for boys for free. Besides obstacle traps, there are many digital squares on the runway. Collect and push these squares for parkour. Note that the two digital squares on the road will move at the same time. Come and merge the squares to unlock more scenery and buildings at the end of the game!
Gameplay of Merge Rush 2048
Merge Rush 2048 offers a unique twist to the classic 2048 gameplay, blending it with the thrill of parkour. As a player, you'll maneuver through challenging paths laden with obstacle traps and an array of digital squares. Your mission is to collect and push these squares, all while keeping a close eye on two digital squares that move simultaneously. Merge identical squares to unlock more scenic views and structures at the game's conclusion. This free game adds an exciting layer to the traditional 2048 experience, offering a thrilling parkour-style adventure, creating a fusion that's both challenging and enjoyable.
Features of Merge Rush 2048
A parkour-style 2048 game designed for boys, available online for free.
Combine classic 2048 gameplay with obstacle-filled paths and digital squares.
Merge identical squares while navigating challenges for a unique twist on the original.
Unlock new scenery and buildings as you progress and merge squares.
Engaging, fun, and challenging gameplay for players of all ages.
Play Merge Rush 2048 online for free in Chrome, Edge and modern Web Browsers.
Tips and Strategies for Merge Rush 2048
Plan your moves carefully to merge squares efficiently and maximize your score.
Keep a watchful eye on the two digital squares moving simultaneously to strategize better.
Avoid obstacles and trap squares to maintain progress and unlock new content.
Collect power-ups and bonuses to enhance your merging capabilities.
Practice your skills and develop a winning strategy to master Merge Rush 2048.
In Summary
Merge Rush 2048 is a free parkour-style 2048 online game that merges classic gameplay with thrilling obstacles, offering a unique and engaging challenge. Merge squares, unlock new scenery, and enjoy this fusion of fun and strategy. Play Merge Rush 2048 online on Chrome, Edge or other modern browsers and enjoy the fun.

GameComets brings together the most popular games, including the highly addictive Merge Rush 2048 and a host of other trending free online games that promise to take your gaming journey to the next level.

Our carefully curated collection of games is designed to promote relaxation, and playing Merge Rush 2048 online on our platform is the perfect way to de-stress and improve your mental well-being.
Platforms
Experience the thrill of the popular game Merge Rush 2048 like never before with our free online version! Whether you're on a Chromebook, laptop, desktop or PC running Windows, you can now enjoy this game to your heart's content.

At our platform, we understand the importance of seamless gameplay. That's why we tested Merge Rush 2048 game extensively on Chrome, Edge, and Firefox, and made sure it works faultlessly across all of today's most popular web browsers. You may play this game anytime you choose, from any location.
How to Play Merge Rush 2048
Start Merge Rush 2048 and enter the exciting world of parkour-style 2048.
Navigate the obstacle-filled paths and collect digital squares while merging identical ones.
Merge squares efficiently, keeping an eye on the synchronized movement of two squares.
Progress through the game to unlock new scenery and buildings, enhancing your Merge Rush 2048 experience.