Goolgames.com >
Racing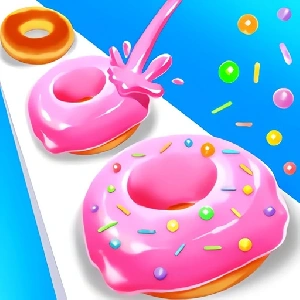 Donut Stack 2 is a delightful free casual online game designed for boys. Make and serve a variety of delicious donuts while navigating challenging obstacles.
×
Related Games
ALL
Donut Stack 2
About Donut Stack 2
Donut Stack is a free casual online game for boys in which you need to make and collect a variety of donuts, and serve food to customers. There are also many obstacles you need to avoid! The operation of the game is simple, Come join us and have fun with the game! Release your stress and have fun!
Gameplay of Donut Stack 2
Donut Stack 2 is a fantastic sequel to the popular casual online game, offering exciting donut-making and serving challenges. As the game's protagonist, your mission is to create a delectable assortment of donuts and serve them to eager customers. However, this task isn't without its difficulties. Players must skillfully navigate around numerous obstacles that stand between them and culinary success. The game's controls are user-friendly and intuitive, making it accessible for all players. Whether you're crafting mouthwatering donuts or honing your avoidance skills, Donut Stack 2 ensures an entertaining and stress-relieving experience. Join us and embark on a delightful culinary adventure!
Features of Donut Stack 2
Culinary Creativity: Craft a variety of delicious donuts, showcasing your culinary skills.
Obstacle Challenges: Navigate through a maze of obstacles while serving your customers.
Simple Controls: The game's controls are easy to grasp, making it suitable for all players.
Stress-Relieving Gameplay: Enjoy a fun and engaging gaming experience to unwind and relax.
Casual Delight: Donut Stack 2 delivers a delightful casual gaming adventure for all ages.
Play Donut Stack 2 online for free in Chrome, Edge and modern Web Browsers.
Tips and Strategies for Donut Stack 2
Prioritize donut creation to keep customers satisfied while navigating obstacles.
Pay close attention to the timing of your actions to successfully serve customers.
Use a combination of strategy and quick reflexes to avoid obstacles effectively.
Keep an eye on the challenges that become progressively more complex as you advance.
Stay focused, maintain a steady pace, and enjoy the delightful world of donut making in Donut Stack 2.
In Summary
Donut Stack 2 is a free casual online game that invites players to craft and serve a range of delectable donuts while conquering obstacle challenges. Play Donut Stack 2 online on Chrome, Edge or other modern browsers and enjoy the fun.

GameComets brings together the most popular games, including the highly addictive Donut Stack 2 and a host of other trending free online games that promise to take your gaming journey to the next level.

Our carefully curated collection of games is designed to promote relaxation, and playing Donut Stack 2 online on our platform is the perfect way to de-stress and improve your mental well-being.
Platforms
Experience the thrill of the popular game Donut Stack 2 like never before with our free online version! Whether you're on a Chromebook, laptop, desktop or PC running Windows, you can now enjoy this game to your heart's content.

At our platform, we understand the importance of seamless gameplay. That's why we tested Donut Stack 2 game extensively on Chrome, Edge, and Firefox, and made sure it works faultlessly across all of today's most popular web browsers. You may play this game anytime you choose, from any location.
How to Play Donut Stack 2
Create donuts by following the game's intuitive controls, and be prepared to serve hungry customers.
Navigate carefully around various obstacles to reach your customers and ensure their satisfaction.
Enjoy a stress-relieving gaming experience as you perfect your culinary skills in Donut Stack 2.
Join us for a delightful and entertaining gaming adventure, suitable for players of all ages!