Goolgames.com >
Shooting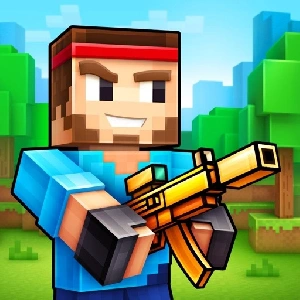 Pixel Gun 3D is a dynamic sandbox shooting game offering a pixelated world filled with thrilling gunfights, multiplayer modes, and diverse weaponry.
×
Related Games
ALL
Pixel Gun 3D
About Pixel Gun 3D
Pixel Gun 3D is a fun, exciting, and creative sandbox shooting game. It is full of pixel-style gunshots, brutal kills, and exciting multiplayer modes. In Pixel Gun 3D, you have the freedom to choose from a wide variety of weapons, gear, and skins to face ever-increasing enemies and challenges. This game has been loved and supported by millions of players around the world. Let's see what different aspects of the game experience Pixel Gun 3D can bring you.
What are the features of the game?
The game uses a pixel style, but this does not prevent it from creating a magnificent sandbox world. In this game, you will explore a vast sandbox map and interact with other players through three unique modes (Level Mode, Funny Mode, and Zombie Mode). Killing enemies and exploring the map can not only get more rewards and game coins but also unlock new maps and game modes.
What's special about the gameplay of the game?
When the game starts, you will play with other players. Use the keyboard to move, reload and switch weapons. Use the mouse to aim and shoot. In the game, your only goal is to defeat the enemy and survive to the end. Pixel Gun 3D offers one of the richest arsenals in the game. It includes melee weapons, pistols, rifles, snipers, and bazookas. There are also special weapons like submachine guns and laser guns waiting for you to unlock. Besides, you can choose different accessories, equipment, and armor according to your need. These gear will increase your health and armor, boost your attack and speed, and make you harder to spot.
Play now and enjoy a fun, and addicting online multiplayer shooting game.
This game is a very good sandbox shooting simulator. Its excellent gameplay, rich game content, and excellent multiplayer mode make it one of the most attractive games. Use it now, match your weapons, and charge!
Gameplay of Pixel Gun 3D
Enter the exciting realm of Pixel Gun 3D, a creative sandbox shooting game that thrives on pixel-style gunplay, intense eliminations, and engaging multiplayer experiences. You'll have the freedom to select from a vast array of weapons, equipment, and skins as you confront ever-more challenging foes and scenarios. With millions of dedicated players worldwide, Pixel Gun 3D delivers endless excitement.
Features of Pixel Gun 3D
Pixel Art Sandbox: Explore a vast pixelated sandbox map with three unique modes: Level Mode, Funny Mode, and Zombie Mode.
Map Rewards: Earn rewards, game coins, and unlock new maps and modes by defeating enemies and exploring.
Diverse Arsenal: Choose from a rich arsenal including melee weapons, pistols, rifles, snipers, bazookas, submachine guns, and laser guns.
Customizable Gear: Select accessories, equipment, and armor to enhance your health, attack, speed, and stealth.
Thrilling Multiplayer: Engage in addictive multiplayer battles with players worldwide, showcasing your weapons and skills.
Play Pixel Gun 3D online for free in Chrome, Edge and modern Web Browsers.
Tips and Strategies for Pixel Gun 3D
Aim Precisely: Master aiming with your mouse to score accurate shots and outduel opponents.
Weapon Variety: Experiment with different weapon types for various scenarios and opponents.
Gear Selection: Tailor your gear to your playstyle, whether you prefer stealth, speed, or brute force.
Map Exploration: Venture through diverse maps to discover new modes and claim lucrative rewards.
Team Play: Coordinate with teammates for success in multiplayer battles, and consider your roles and strategies.
In Summary
Pixel Gun 3D is an action-packed sandbox shooting game that immerses players in a pixel art world. With an extensive arsenal, multiplayer mayhem, and diverse gameplay modes, it offers captivating entertainment for shooting enthusiasts worldwide. Play Pixel Gun 3D online on Chrome, Edge or other modern browsers and enjoy the fun.

GameComets brings together the most popular games, including the highly addictive Pixel Gun 3D and a host of other trending free online games that promise to take your gaming journey to the next level.

Our carefully curated collection of games is designed to promote relaxation, and playing Pixel Gun 3D online on our platform is the perfect way to de-stress and improve your mental well-being.
Platforms
Experience the thrill of the popular game Pixel Gun 3D like never before with our free online version! Whether you're on a Chromebook, laptop, desktop or PC running Windows, you can now enjoy this game to your heart's content.

At our platform, we understand the importance of seamless gameplay. That's why we tested Pixel Gun 3D game extensively on Chrome, Edge, and Firefox, and made sure it works faultlessly across all of today's most popular web browsers. You may play this game anytime you choose, from any location.
How to Play Pixel Gun 3D
Move with the keyboard, reload, and switch weapons while aiming and shooting with the mouse.
Survive and defeat opponents in various game modes, such as Level, Funny, and Zombie Modes.
Customize your character with gear, weapons, and armor that align with your playstyle.
Dive into thrilling multiplayer battles against global competitors, where strategy and skill determine victory. Join the Pixel Gun 3D community now and unleash your shooting prowess!