Goolgames.com >
Girls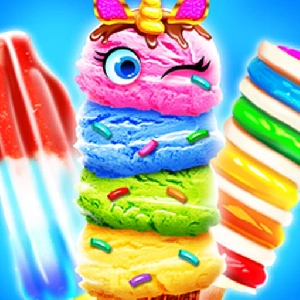 Rainbow Ice Cream is a delightful and colorful game where you embark on a sweet journey to create delectable ice cream cones.
×
Related Games
ALL
Rainbow Ice Cream
About Rainbow Ice Cream
Rainbow Ice Cream is a colorful and delicious game that will take you on a delightful journey. At Rainbow Ice Cream game, your mission is to create the most attractive and mouth-watering ice cream cones. Are you ready to become an ice cream artist? Now let the colorful journey begin!
Gameplay of Rainbow Ice Cream
Indulge your sweet tooth in the world of Rainbow Ice Cream, a vibrant and delicious game that invites you to explore a delightful ice cream adventure. Your mission is to craft the most enticing and mouthwatering ice cream cones imaginable. As an aspiring ice cream artist, you have an array of flavors, toppings, and decorations at your fingertips to create a visual and culinary masterpiece. Combine colors, add sprinkles, and unleash your creativity to satisfy your customers' sweet cravings. Get ready to embark on this colorful journey that promises a sweet and satisfying experience for ice cream lovers of all ages.
Features of Rainbow Ice Cream
Colorful Creations: Craft visually stunning and delicious ice cream cones.
Tantalizing Toppings: Choose from a variety of flavors, toppings, and decorations.
Creative Freedom: Unleash your artistic side to design unique ice cream creations.
Customer Satisfaction: Serve up the perfect treat to satisfy your virtual customers.
Sweet Adventure: Join the Rainbow Ice Cream adventure for a delightful and colorful experience.
Play Rainbow Ice Cream online for free in Chrome, Edge and modern Web Browsers.
Tips and Strategies for Rainbow Ice Cream
Mix and Match: Experiment with flavor combinations and colorful toppings for unique creations.
Precision Matters: Pay attention to customer preferences and customize each order accordingly.
Time Management: Serve ice cream promptly to keep your customers happy.
Upgrade Options: Use earned rewards to unlock new flavors and decorations.
Share Your Creations: Showcase your colorful ice cream designs with friends and fellow dessert enthusiasts.
In Summary
Rainbow Ice Cream is a delightful and colorful game where you craft delectable ice cream cones, offering creative freedom and sweet satisfaction. Play Rainbow Ice Cream online on Chrome, Edge or other modern browsers and enjoy the fun.

GameComets brings together the most popular games, including the highly addictive Rainbow Ice Cream and a host of other trending free online games that promise to take your gaming journey to the next level.

Our carefully curated collection of games is designed to promote relaxation, and playing Rainbow Ice Cream online on our platform is the perfect way to de-stress and improve your mental well-being.
Platforms
Experience the thrill of the popular game Rainbow Ice Cream like never before with our free online version! Whether you're on a Chromebook, laptop, desktop or PC running Windows, you can now enjoy this game to your heart's content.

At our platform, we understand the importance of seamless gameplay. That's why we tested Rainbow Ice Cream game extensively on Chrome, Edge, and Firefox, and made sure it works faultlessly across all of today's most popular web browsers. You may play this game anytime you choose, from any location.
How to Play Rainbow Ice Cream
Start by selecting a cone and choosing from a variety of ice cream flavors.
Add colorful toppings, sprinkles, and decorations to create your unique ice cream masterpiece.
Serve your creations to virtual customers and ensure their satisfaction by fulfilling their orders.
Embark on a sweet journey as an ice cream artist and let your colorful creations shine in Rainbow Ice Cream.