Goolgames.com >
Racing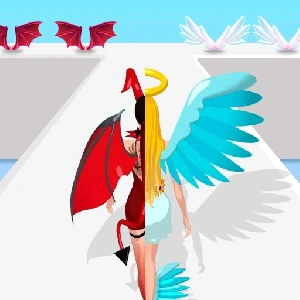 In Destiny Run, the choices you make impact your ultimate fate. Will you be a good angel or an evil demon? It's all up to you.
×
Related Games
ALL
Destiny Run
About Destiny Run
Fate is fair to everyone, and people need to be responsible for their lives. Each of us is the master of our own destiny. In this brand new running game of destiny, every choice you make will affect your ultimate destiny. Whether you will be a good angel or an evil demon depends on your choice! And in order to succeed, you must choose carefully. OK! Try this interesting game now! Enjoy it!
Gameplay of Destiny Run
Fate is the ultimate equalizer, and in Destiny Run, a brand-new running game of destiny, you become the architect of your own fate. Every choice you make in this thrilling adventure affects your ultimate destiny. The path you choose will determine whether you become a virtuous angel or a mischievous demon. Your journey is a test of strategy and decision-making, and the key to success lies in your careful choices. This captivating game offers a unique narrative-driven experience where you must select your actions wisely. Will you create a virtuous legacy or succumb to darker desires? Try Destiny Run now and embrace the power of choice!
Features of Destiny Run
Destiny-Forging Choices: Destiny Run is defined by the choices you make, leading to multiple outcomes.
Angel or Demon Path: Your decisions determine whether you follow the path of a benevolent angel or a mischievous demon.
Engaging Narrative: Immerse yourself in a narrative-driven game where your choices matter.
Strategy and Decision-Making: Strategy is paramount as you navigate your journey to destiny.
Multiple Endings: Experience different endings based on your choices, adding replayability.
Play Destiny Run online for free in Chrome, Edge and modern Web Browsers.
Tips and Strategies for Destiny Run
Thoughtful Choices: Consider the consequences of each decision to align with your desired destiny.
Explore All Possibilities: Replay the game to explore different outcomes and understand the consequences of your choices.
Balance Virtue and Mischief: Weigh the benefits and drawbacks of being a virtuous angel or a playful demon.
Pay Attention to Narratives: Immersing yourself in the game's narrative will help you make informed decisions.
Adapt and Experiment: Don't be afraid to adapt your strategy and experiment with various choices to uncover the game's full story.
In Summary
Destiny Run is a unique running game where your choices mold your ultimate destiny. Will you walk the path of a virtuous angel or embrace the spirit of an impish demon? Carefully choose your actions to unravel a captivating narrative and reveal your ultimate fate. Play Destiny Run online on Chrome, Edge or other modern browsers and enjoy the fun.

GameComets brings together the most popular games, including the highly addictive Destiny Run and a host of other trending free online games that promise to take your gaming journey to the next level.

Our carefully curated collection of games is designed to promote relaxation, and playing Destiny Run online on our platform is the perfect way to de-stress and improve your mental well-being.
Platforms
Experience the thrill of the popular game Destiny Run like never before with our free online version! Whether you're on a Chromebook, laptop, desktop or PC running Windows, you can now enjoy this game to your heart's content.

At our platform, we understand the importance of seamless gameplay. That's why we tested Destiny Run game extensively on Chrome, Edge, and Firefox, and made sure it works faultlessly across all of today's most popular web browsers. You may play this game anytime you choose, from any location.
How to Play Destiny Run
Dive into Destiny Run and start your journey where every choice counts.
Along the way, you'll face decisions that lead you down the path of an angel or a demon.
Think carefully about the implications of each choice as they impact your destiny.
Whether you aim for virtue or mischief, Destiny Run lets you craft your unique narrative in this thrilling adventure. Enjoy the power of choice in your destiny!