Goolgames.com >
Boys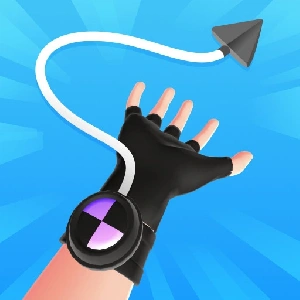 Ropeman 3D is an exhilarating 3D arcade game that lets you emulate Spiderman's superhuman abilities by using hooks and ropes to outsmart dangerous foes.
×
Related Games
ALL
Ropeman 3D
About Ropeman 3D
Have you heard of Spiderman? Spiderman has a superhuman ability. He can use spider silk to entangle dangerous objects or kill terrible enemies. Today, you have the opportunity to use hooks and ropes like Spiderman to complete each level challenge, Ropeman 3D is the latest 3D arcade game. You can follow in the footsteps of your favorite superheroes. At the same time, you also need to think strategically to avoid dangerous enemies holding machine guns. Use hooks and ropes to interrupt their firing actions. The bad guys have a chance to kill them before you get rid of them, are you ready?
Gameplay of Ropeman 3D
Ropeman 3D offers players the thrilling opportunity to harness the power of spider silk, much like the iconic superhero, Spiderman. With a vast array of challenging levels, you'll employ your hook and rope skills to tackle obstacles and vanquish menacing adversaries. The game seamlessly combines action and strategy as you grapple with dangerous foes armed with machine guns. Timing is crucial; you'll need to use your hooks and ropes strategically to disrupt their attacks. Succeed in eliminating the villains before they eliminate you, and rise to the occasion as a true hero.
Features of Ropeman 3D
Immerse yourself in a 3D world of action-packed challenges.
Mimic Spiderman's superhuman abilities with your hooks and ropes.
Face off against formidable enemies with machine guns.
Employ strategic thinking to outwit your adversaries.
Experience the thrill of following in your favorite superhero's footsteps.
Play Ropeman 3D online for free in Chrome, Edge and modern Web Browsers.
Tips and Strategies for Ropeman 3D
Master the timing of your hook and rope usage to disrupt enemy attacks effectively.
Prioritize eliminating dangerous foes with machine guns to ensure your survival.
Plan your moves carefully, as strategic thinking is key to victory.
Explore the 3D environment to uncover hidden opportunities and advantages.
Stay alert and adapt your tactics to overcome each level's unique challenges.
In Summary
Ropeman 3D is an adrenaline-pumping 3D arcade game that allows players to emulate Spiderman's superhuman abilities. Combining action and strategy, you must skillfully use hooks and ropes to overcome dangerous adversaries armed with machine guns. Sharpen your skills, think strategically, and become the hero of your own adventure. Play Ropeman 3D online on Chrome, Edge or other modern browsers and enjoy the fun.

GameComets brings together the most popular games, including the highly addictive Ropeman 3D and a host of other trending free online games that promise to take your gaming journey to the next level.

Our carefully curated collection of games is designed to promote relaxation, and playing Ropeman 3D online on our platform is the perfect way to de-stress and improve your mental well-being.
Platforms
Experience the thrill of the popular game Ropeman 3D like never before with our free online version! Whether you're on a Chromebook, laptop, desktop or PC running Windows, you can now enjoy this game to your heart's content.

At our platform, we understand the importance of seamless gameplay. That's why we tested Ropeman 3D game extensively on Chrome, Edge, and Firefox, and made sure it works faultlessly across all of today's most popular web browsers. You may play this game anytime you choose, from any location.
How to Play Ropeman 3D
Use the on-screen controls to navigate your character in the 3D world.
Tap to launch your hooks and ropes strategically to interrupt enemy attacks.
Prioritize eliminating foes armed with machine guns to ensure your survival.
Progress through challenging levels, mastering the art of Ropeman to become the ultimate hero.