Goolgames.com >
Racing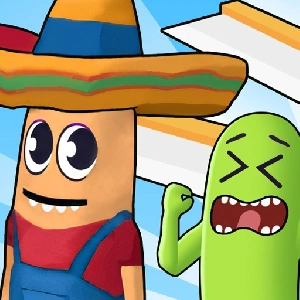 Sausage Run invites you to take the reins of a daring sausage as it dashes through a perilous path, brimming with obstacles and traps. Your objective is to achieve your personal best, collect rewards, and conquer your own high score. With charming pixel art and user-friendly controls, this game caters to players of all ages.
×
Related Games
ALL
Sausage Run 3D
About Sausage Run 3D
In Sausage Run, you'll control a sausage as it darts along a path filled with various obstacles and traps. Your goal is to go as far as you can, collect rewards along the way, and beat your own top score. The game's beautiful pixel art style and simple, intuitive controls make it suitable for players of all ages.
Gameplay of Sausage Run 3D
Sausage Run delivers thrilling gameplay where you control a sausage, guiding it through a challenging course laden with obstacles and traps. Your aim is to travel as far as possible while gathering rewards and striving to surpass your previous best performance.
Features of Sausage Run 3D
Endless Dash: Engage in an endless running adventure, pushing your limits to achieve new milestones.
Obstacle Course: Navigate through a variety of obstacles and traps, testing your reflexes and strategy.
Reward Collection: Collect rewards scattered along your path, enhancing your gameplay experience.
Personal Challenge: Compete with yourself, constantly improving to set higher scores.
Pixel Art Charm: Enjoy the game's visually appealing pixel art style, appealing to players of all ages.
Play Sausage Run 3D online for free in Chrome, Edge and modern Web Browsers.
Tips and Strategies for Sausage Run 3D
Timing is Key: Master the timing of your movements to successfully navigate obstacles.
Collect Rewards: Gather as many rewards as possible to boost your score and unlock in-game bonuses.
Practice Regularly: Consistent play hones your skills and improves your performance.
Focus on Improvement: Challenge yourself to beat your previous best score with each run.
Relax and Enjoy: The game's simplicity and charm make it enjoyable for players of all skill levels.
In Summary
Sausage Run offers an exciting endless running experience where you guide a sausage through obstacle-filled paths to achieve higher scores, all wrapped in delightful pixel art and accessible controls. Play Sausage Run 3D online on Chrome, Edge or other modern browsers and enjoy the fun.

GameComets brings together the most popular games, including the highly addictive Sausage Run 3D and a host of other trending free online games that promise to take your gaming journey to the next level.

Our carefully curated collection of games is designed to promote relaxation, and playing Sausage Run 3D online on our platform is the perfect way to de-stress and improve your mental well-being.
Platforms
Experience the thrill of the popular game Sausage Run 3D like never before with our free online version! Whether you're on a Chromebook, laptop, desktop or PC running Windows, you can now enjoy this game to your heart's content.

At our platform, we understand the importance of seamless gameplay. That's why we tested Sausage Run 3D game extensively on Chrome, Edge, and Firefox, and made sure it works faultlessly across all of today's most popular web browsers. You may play this game anytime you choose, from any location.
How to Play Sausage Run 3D
Launch Sausage Run on your device.
Launch Sausage Run on your device.
Collect rewards to boost your score and enhance your gameplay.
Continuously challenge yourself to surpass your own high score in this captivating and user-friendly game.