Goolgames.com >
Boys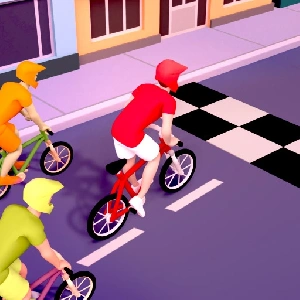 Welcome to Bike Rush, our new 3D relaxing game! Become a rider and navigate the city streets, overcoming various obstacles.
×
Related Games
ALL
Bike Rush
About Bike Rush
Hey, welcome to our new 3D relaxing game Bike Rush! As a rider, the player shuttles through the streets of the city. A variety of obstacles will add difficulty to your way forward. This game is easy to operate, but it really tests the player's reaction ability. Have a good time in Bike Rush!
Gameplay of Bike Rush
Bike Rush invites you to a 3D world where you'll embrace the role of a skilled rider maneuvering through the bustling streets of the city. This relaxing game is deceptively easy to operate, yet it offers a thrilling test of your reaction abilities. As you pedal forward, you'll encounter a range of obstacles that will challenge your skills and reflexes. Your goal is to gracefully navigate these hurdles and reach your destination. The game provides a perfect blend of relaxation and excitement, making it an enjoyable and engaging experience for players of all levels. Get ready to hop on your bike and embark on a delightful urban adventure in Bike Rush!
Features of Bike Rush
A 3D relaxing game that combines easy gameplay with reaction-based challenges.
Explore city streets and navigate a variety of obstacles on your bicycle.
Engaging visuals and immersive 3D world for a captivating gaming experience.
Suitable for players of all ages, offering both relaxation and excitement.
Test your reaction abilities and have a great time in the world of Bike Rush.
Play Bike Rush online for free in Chrome, Edge and modern Web Browsers.
Tips and Strategies for Bike Rush
Stay attentive to the road and obstacles to react quickly and avoid collisions.
Balance your speed to tackle different obstacles effectively.
Experiment with different strategies to improve your performance in each level.
Collect power-ups and bonuses to enhance your gameplay.
Enjoy the relaxing yet engaging experience, and remember that practice makes perfect.
In Summary
Bike Rush offers a 3D urban adventure where you navigate city streets, overcome obstacles, and test your reaction abilities. Enjoy the perfect balance of relaxation and excitement in this engaging cycling game. Play Bike Rush online on Chrome, Edge or other modern browsers and enjoy the fun.

GameComets brings together the most popular games, including the highly addictive Bike Rush and a host of other trending free online games that promise to take your gaming journey to the next level.

Our carefully curated collection of games is designed to promote relaxation, and playing Bike Rush online on our platform is the perfect way to de-stress and improve your mental well-being.
Platforms
Experience the thrill of the popular game Bike Rush like never before with our free online version! Whether you're on a Chromebook, laptop, desktop or PC running Windows, you can now enjoy this game to your heart's content.

At our platform, we understand the importance of seamless gameplay. That's why we tested Bike Rush game extensively on Chrome, Edge, and Firefox, and made sure it works faultlessly across all of today's most popular web browsers. You may play this game anytime you choose, from any location.
How to Play Bike Rush
Start your Bike Rush adventure and choose your rider.
Navigate the city streets, pedaling through the 3D world.
React quickly to obstacles to avoid collisions and progress through the levels.
Experiment with different strategies, collect bonuses, and enhance your riding skills in Bike Rush!