Goolgames.com >
Shooting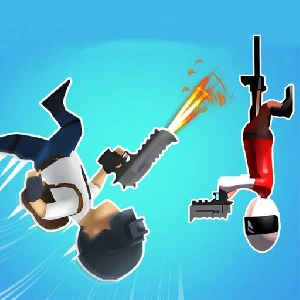 Crazy Counter Attack is an intense shooting game where the objective is clear but challenging: eliminate all incoming enemies.
×
Related Games
ALL
Crazy Counter Attack
About Crazy Counter Attack
Crazy Counter Attack is a shooting game. The goal is simple yet challenging - eliminate every enemy that comes your way. You will encounter more opponents as each level becomes increasingly difficult. For victory, react quickly and aim accurately.
Gameplay of Crazy Counter Attack
Crazy Counter Attack immerses you in the heart of adrenaline-pumping shooting action. The goal is straightforward yet demanding: obliterate every enemy that crosses your path. As you progress through the game, brace yourself for increasingly challenging levels teeming with adversaries. React swiftly, employ precision aiming, and employ your tactical prowess to emerge victorious. Each level offers a thrilling test of your shooting skills, ensuring non-stop action and excitement. Prepare for a relentless onslaught and experience the rush of eliminating foes in this high-stakes shooting game.
Features of Crazy Counter Attack
Intense Shooting Action: Engage in an adrenaline-charged shooting experience.
Challenging Objectives: Eliminate all enemies in progressively difficult levels.
Diverse Adversaries: Face a variety of opponents with different skills and tactics.
Precision Aiming: Hone your aiming skills for accurate shots.
Non-Stop Thrills: Enjoy continuous action and intense battles in Crazy Counter Attack.
Play Crazy Counter Attack online for free in Chrome, Edge and modern Web Browsers.
Tips and Strategies for Crazy Counter Attack
React Swiftly: Stay on your toes and respond quickly to enemy movements.
Aim Accurately: Precise aiming is crucial for defeating opponents efficiently.
Prioritize Targets: Assess threats and prioritize high-value targets.
Cover and Reloading: Use cover wisely, and time your reloads to avoid vulnerability.
Learn from Each Battle: Analyze your battles to improve your shooting skills and strategies.
In Summary
Crazy Counter Attack is an intense shooting game challenging players to eliminate waves of adversaries in progressively difficult levels. Play Crazy Counter Attack online on Chrome, Edge or other modern browsers and enjoy the fun.

GameComets brings together the most popular games, including the highly addictive Crazy Counter Attack and a host of other trending free online games that promise to take your gaming journey to the next level.

Our carefully curated collection of games is designed to promote relaxation, and playing Crazy Counter Attack online on our platform is the perfect way to de-stress and improve your mental well-being.
Platforms
Experience the thrill of the popular game Crazy Counter Attack like never before with our free online version! Whether you're on a Chromebook, laptop, desktop or PC running Windows, you can now enjoy this game to your heart's content.

At our platform, we understand the importance of seamless gameplay. That's why we tested Crazy Counter Attack game extensively on Chrome, Edge, and Firefox, and made sure it works faultlessly across all of today's most popular web browsers. You may play this game anytime you choose, from any location.
How to Play Crazy Counter Attack
Take control of your character in a high-stakes shooting scenario.
Eliminate all enemies that appear on your path.
React swiftly, aim accurately, and prioritize targets to secure victory.
Brace yourself for non-stop action and intense battles in Crazy Counter Attack.