Goolgames.com >
Puzzle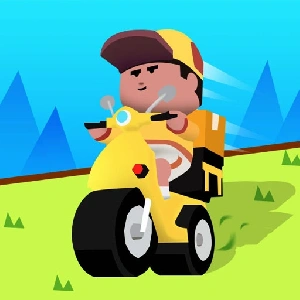 Deliver All Puzzle is an addictive online puzzle game designed for boys, challenging players to collect packages and deliver them to recipients.
×
Related Games
ALL
Deliver All Puzzle
About Deliver All Puzzle
Deliver All Puzzle is a very addictive online puzzle game made for boys for free. Collect all the packages on the blocks and deliver them to the recipient. It sounds simple, but in fact, it is a tricky game. Packages are placed in many places on the blocks and you are only allowed to turn your direction in case of hitting the wall. There are many levels in this game. Good luck!
Gameplay of Deliver All Puzzle
Step into the captivating world of Deliver All Puzzle, a highly addictive online puzzle game created for boys, and it's completely free! Your mission is to collect all the scattered packages located on various blocks and successfully deliver them to their designated recipients. While it may sound straightforward, this game presents a tricky challenge. The packages are strategically placed throughout the blocks, and you can only change your direction when you encounter a wall. With numerous levels to conquer, Deliver All Puzzle offers hours of engaging gameplay. Best of luck as you navigate this intricate puzzle!
Features of Deliver All Puzzle
Addictive Puzzle Action: Engage in a highly addictive online puzzle game.
Package Collection: Collect scattered packages across various blocks.
Strategic Challenge: Plan your moves to successfully deliver each package.
Diverse Levels: Conquer numerous levels with progressively challenging puzzles.
Hours of Entertainment: Enjoy extended gameplay and intricate puzzles in Deliver All Puzzle.
Play Deliver All Puzzle online for free in Chrome, Edge and modern Web Browsers.
Tips and Strategies for Deliver All Puzzle
Plan Your Path: Strategically plan your route to efficiently collect and deliver packages.
Wall Navigation: Utilize wall interactions to change your direction effectively.
Focus and Precision: Pay attention to the placement of packages and maintain precision in your movements.
Solve Puzzles: Treat each level as a unique puzzle to unravel its challenges.
Persistence Pays: Stay persistent and tackle increasingly complex levels in Deliver All Puzzle.
In Summary
Deliver All Puzzle is a free online puzzle game designed for boys, tasking players with collecting and delivering scattered packages across intricate block-based levels. Play Deliver All Puzzle online on Chrome, Edge or other modern browsers and enjoy the fun.

GameComets brings together the most popular games, including the highly addictive Deliver All Puzzle and a host of other trending free online games that promise to take your gaming journey to the next level.

Our carefully curated collection of games is designed to promote relaxation, and playing Deliver All Puzzle online on our platform is the perfect way to de-stress and improve your mental well-being.
Platforms
Experience the thrill of the popular game Deliver All Puzzle like never before with our free online version! Whether you're on a Chromebook, laptop, desktop or PC running Windows, you can now enjoy this game to your heart's content.

At our platform, we understand the importance of seamless gameplay. That's why we tested Deliver All Puzzle game extensively on Chrome, Edge, and Firefox, and made sure it works faultlessly across all of today's most popular web browsers. You may play this game anytime you choose, from any location.
How to Play Deliver All Puzzle
Begin by collecting packages scattered across the blocks.
Plan your moves carefully, as you can only change direction when hitting a wall.
Navigate through progressively challenging levels, ensuring each package reaches its recipient.
Test your puzzle-solving skills and enjoy hours of entertainment in Deliver All Puzzle. Good luck!