Goolgames.com >
Puzzle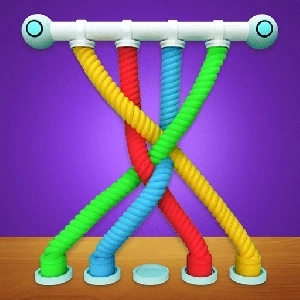 Tangle Fun 3D offers an enthralling puzzle experience with progressively challenging tasks that put your patience and problem-solving skills to the test.
×
Related Games
ALL
Tangle Fun 3D
About Tangle Fun 3D
Tangle Fun 3D is a free online leisure and puzzle game for boys. There are many tasks in the game, the tangled rope design in each task is different, and customs clearance will be more and more difficult. If you want to untie the ropes, you need to consider every step, which will exercise your patience. Mobile, Tablet, and Desktop are playable. Come and try it now!
Gameplay of Tangle Fun 3D
Prepare to be captivated by the intricate and engaging world of "Tangle Fun 3D," a free online leisure and puzzle game. With a multitude of tasks to tackle, each presenting a unique and perplexing tangle of ropes, your journey through this puzzling realm promises ever-increasing complexity. Success in untying these challenging knots necessitates meticulous planning and problem-solving prowess. Every step counts as you navigate through the labyrinth of ropes, fostering patience and enhancing your ability to think critically. This game is accessible on various devices, including Mobile, Tablet, and Desktop, ensuring you can enjoy it anytime, anywhere. Dive into the enigmatic world of "Tangle Fun 3D" and test your puzzle-solving skills.
Features of Tangle Fun 3D
Diverse Puzzle Tasks: Navigate through a multitude of tasks, each with its own distinct rope puzzle to unravel.
Increasing Complexity: The game offers progressively challenging levels that will test your problem-solving abilities.
Patience Training: Untangling ropes demands careful consideration of each move, enhancing your patience and strategic thinking.
Cross-Device Play: Enjoy "Tangle Fun 3D" on Mobile, Tablet, and Desktop devices for gaming convenience.
Addictive Puzzle Adventure: Immerse yourself in the intriguing world of rope puzzles and conquer the ever-growing challenges.
Play Tangle Fun 3D online for free in Chrome, Edge and modern Web Browsers.
Tips and Strategies for Tangle Fun 3D
Study the Tangle: Carefully examine the initial state of the ropes in each task to formulate a strategy.
Plan Ahead: Consider the implications of each move, as a misstep can lead to a more challenging tangle.
Be Patient: Practice patience as you work through the puzzles, step by step.
Trial and Error: Don't hesitate to experiment with different approaches to find the best solution.
Take Breaks: If a puzzle becomes particularly challenging, taking a short break can often lead to a fresh perspective.
In Summary
"Tangle Fun 3D" immerses players in an intricate world of rope puzzles, progressively challenging their problem-solving skills and patience. Play Tangle Fun 3D online on Chrome, Edge or other modern browsers and enjoy the fun.

GameComets brings together the most popular games, including the highly addictive Tangle Fun 3D and a host of other trending free online games that promise to take your gaming journey to the next level.

Our carefully curated collection of games is designed to promote relaxation, and playing Tangle Fun 3D online on our platform is the perfect way to de-stress and improve your mental well-being.
Platforms
Experience the thrill of the popular game Tangle Fun 3D like never before with our free online version! Whether you're on a Chromebook, laptop, desktop or PC running Windows, you can now enjoy this game to your heart's content.

At our platform, we understand the importance of seamless gameplay. That's why we tested Tangle Fun 3D game extensively on Chrome, Edge, and Firefox, and made sure it works faultlessly across all of today's most popular web browsers. You may play this game anytime you choose, from any location.
How to Play Tangle Fun 3D
Begin your puzzle-solving journey in "Tangle Fun 3D."
Analyze the initial rope tangle and plan your moves to untie the knots.
Approach each level with patience and precision, as the complexity grows with each task.
Whether on your Mobile, Tablet, or Desktop, test your rope untangling skills in this engaging puzzle adventure.