Goolgames.com >
Boys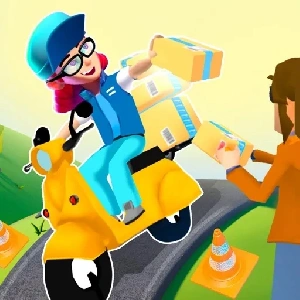 Deliver It 3D offers an exciting online experience of express delivery, where you control a rider on an electric bike navigating complex delivery routes.
×
Related Games
ALL
Deliver It 3D
About Deliver It 3D
Deliver It 3D is a free online game to experience express delivery for boys. In the game, you need to control the man to ride an electric car to deliver packages on complicated roads. Pay attention to ensure that you can reach the customer's door safely during the express delivery. You can earn money by collecting packages and sending them to guests along the way. Come and try it now!
Gameplay of Deliver It 3D
Deliver It 3D is a free online game that immerses players in the world of express delivery. As the main character, you'll hop on an electric bike and venture through intricate and challenging roadways to deliver packages to eager customers. The success of your deliveries relies on your navigation skills and precision to ensure safe arrival at each customer's doorstep. Along the journey, your efforts are rewarded as you collect packages and successfully dispatch them to awaiting recipients, earning valuable in-game currency. The game brings excitement and challenges that test your delivery abilities, making it a must-try for aspiring delivery experts.
Features of Deliver It 3D
Express Delivery Thrills: Engage in the exhilarating world of express delivery with intricate delivery routes.
Electric Bike Adventures: Control a rider on an electric bike, adding a unique dimension to the gameplay.
Challenging Routes: Navigate complex and winding roads to reach customers safely.
Rewarding Deliveries: Collect and deliver packages to earn in-game currency, advancing your delivery career.
Realistic Experience: Experience the fast-paced world of express delivery with Deliver It 3D's immersive gameplay.
Play Deliver It 3D online for free in Chrome, Edge and modern Web Browsers.
Tips and Strategies for Deliver It 3D
Pay close attention to the routes and obstacles on your delivery journey.
Plan your routes effectively to ensure timely and safe deliveries to customers.
Balance speed and precision, as prompt deliveries are key to success.
Strategically manage your deliveries and prioritize efficient routes to maximize earnings.
Keep honing your delivery skills to master the art of express delivery in Deliver It 3D.
In Summary
Deliver It 3D is an exciting online game that challenges players to master the art of express delivery while navigating intricate routes on an electric bike. Play Deliver It 3D online on Chrome, Edge or other modern browsers and enjoy the fun.

GameComets brings together the most popular games, including the highly addictive Deliver It 3D and a host of other trending free online games that promise to take your gaming journey to the next level.

Our carefully curated collection of games is designed to promote relaxation, and playing Deliver It 3D online on our platform is the perfect way to de-stress and improve your mental well-being.
Platforms
Experience the thrill of the popular game Deliver It 3D like never before with our free online version! Whether you're on a Chromebook, laptop, desktop or PC running Windows, you can now enjoy this game to your heart's content.

At our platform, we understand the importance of seamless gameplay. That's why we tested Deliver It 3D game extensively on Chrome, Edge, and Firefox, and made sure it works faultlessly across all of today's most popular web browsers. You may play this game anytime you choose, from any location.
How to Play Deliver It 3D
Start your delivery adventure by controlling the rider on the electric bike.
Navigate challenging roads, collecting packages, and delivering them safely to customers.
Earn in-game currency for successful deliveries and use it to advance in the game.
Dive into the fast-paced world of express delivery and become a skilled delivery rider in Deliver It 3D.