Goolgames.com >
Boys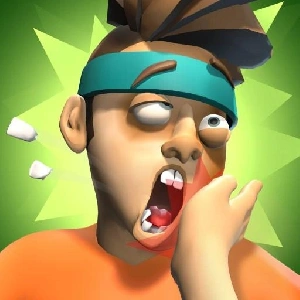 Slap Kings is a unique fusion of a relaxation arcade and a skillful reflex game, featuring engaging three-dimensional game art animation.
×
Related Games
ALL
Slap Kings
About Slap Kings
Slap Kings plays like both a relaxation arcade and a skillful reflection game that is made from three-dimensional game art animation. It is requested to beat your opponent by means of slapping them with the highest strength. I wish you are able to become the winner in the Slap Kings!
Gameplay of Slap Kings
Slap Kings offers a distinctive gaming experience, combining elements of relaxation and reflex skills. Set in a captivating three-dimensional world, the objective is simple yet challenging: defeat your opponent by delivering the most powerful slap. You'll engage in thrilling one-on-one slap battles where timing and strength are crucial. To succeed, you must gauge your opponent's actions, anticipate the right moment to strike, and execute the perfect slap. Victory depends on your ability to outwit and out-slap your rivals. Slap Kings offers a mix of fun and skill, making it a game of both precision and strategy.
Features of Slap Kings
A unique blend of relaxation and reflex-based gameplay in an immersive 3D environment.
Engage in intense slap battles with rivals, testing your timing and strength.
Visually appealing game art animation for an engaging experience.
A simple yet challenging objective: beat your opponent with well-timed slaps.
A game that combines fun and skill, offering a unique gaming experience.
Play Slap Kings online for free in Chrome, Edge and modern Web Browsers.
Tips and Strategies for Slap Kings
Watch your opponent's movements closely to anticipate their actions.
Time your slaps carefully, aiming for maximum power and accuracy.
Experiment with different strategies to find the best approach for each opponent.
Be patient and wait for the right moment to strike for a successful slap.
Practice and refine your reflexes to become the ultimate Slap Kings champion.
In Summary
Slap Kings is a one-of-a-kind game that fuses relaxation and reflex-based gameplay, set in a captivating 3D world. Challenge opponents in intense slap battles, showcasing your timing and strength, and aim to become the reigning Slap Kings champion. Play Slap Kings online on Chrome, Edge or other modern browsers and enjoy the fun.

GameComets brings together the most popular games, including the highly addictive Slap Kings and a host of other trending free online games that promise to take your gaming journey to the next level.

Our carefully curated collection of games is designed to promote relaxation, and playing Slap Kings online on our platform is the perfect way to de-stress and improve your mental well-being.
Platforms
Experience the thrill of the popular game Slap Kings like never before with our free online version! Whether you're on a Chromebook, laptop, desktop or PC running Windows, you can now enjoy this game to your heart's content.

At our platform, we understand the importance of seamless gameplay. That's why we tested Slap Kings game extensively on Chrome, Edge, and Firefox, and made sure it works faultlessly across all of today's most popular web browsers. You may play this game anytime you choose, from any location.
How to Play Slap Kings
Enter the world of Slap Kings and choose your opponent.
Observe your rival's movements and time your slaps for maximum impact.
Deliver well-timed, powerful slaps to defeat your opponent and progress.
Master the art of slapping and rise through the ranks to become the ultimate Slap King!