Goolgames.com >
Girls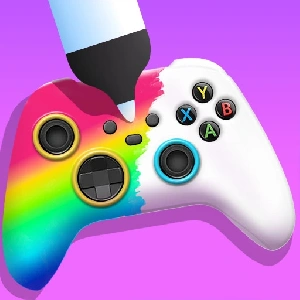 Diy Joystick is a captivating online simulation game designed for girls, offering a creative canvas to craft personalized game accessories and consoles.
×
Related Games
ALL
Diy Joystick
About Diy Joystick
Diy Joystick is a standard simulation online game for girls for free. The game can make all kinds of the game handles, game peripherals, headphones, VR sets, and even the appearance of game consoles with personalized features by means of stenciling, hydro dipping, stickers, marble, etc. Let's show your artistic cells and create wonderful works!
Gameplay of Diy Joystick
Diy Joystick is an engaging simulation game tailored for girls, providing a platform to explore creativity through crafting custom game accessories and consoles. Unleash your artistic flair as you design an array of gaming peripherals, headphones, VR sets, and even game console exteriors. Utilize techniques such as stenciling, hydro dipping, stickers, and marbling to breathe life into your gaming gear. The possibilities are limitless as you infuse your unique style into each creation. Showcase your artistic talents and craft exceptional, one-of-a-kind gaming accessories in this imaginative and free online game.
Features of Diy Joystick
Creative Crafting: Design and personalize game accessories, VR sets, headphones, and console exteriors.
Various Techniques: Employ stenciling, hydro dipping, stickers, marbling, and more for crafting your gaming gear.
Custom Game Peripherals: Create one-of-a-kind game handles and accessories with unique, personalized features.
Artistic Expression: Exhibit your artistic prowess by crafting visually stunning and functional gaming gear.
Free and Fun: Dive into the world of creative gaming accessory design with Diy Joystick, free for all to enjoy.
Play Diy Joystick online for free in Chrome, Edge and modern Web Browsers.
Tips and Strategies for Diy Joystick
Plan your designs and color schemes before beginning to ensure a cohesive and eye-catching final product.
Experiment with different crafting techniques to add depth and texture to your gaming accessories.
Pay attention to the details to create unique and personalized features.
Share your creations with friends and the gaming community to inspire others.
Let your artistic imagination run wild and create remarkable, personalized gaming gear.
In Summary
Diy Joystick is an imaginative and free online simulation game that empowers girls to design and personalize an array of gaming accessories and consoles. Play Diy Joystick online on Chrome, Edge or other modern browsers and enjoy the fun.

GameComets brings together the most popular games, including the highly addictive Diy Joystick and a host of other trending free online games that promise to take your gaming journey to the next level.

Our carefully curated collection of games is designed to promote relaxation, and playing Diy Joystick online on our platform is the perfect way to de-stress and improve your mental well-being.
Platforms
Experience the thrill of the popular game Diy Joystick like never before with our free online version! Whether you're on a Chromebook, laptop, desktop or PC running Windows, you can now enjoy this game to your heart's content.

At our platform, we understand the importance of seamless gameplay. That's why we tested Diy Joystick game extensively on Chrome, Edge, and Firefox, and made sure it works faultlessly across all of today's most popular web browsers. You may play this game anytime you choose, from any location.
How to Play Diy Joystick
Select the gaming accessory or console component you wish to craft.
Explore various crafting techniques like stenciling, hydro dipping, marbling, and stickers.
Design, paint, and personalize your chosen item with unique features and artwork.
Share your creations with fellow gamers, showcasing your artistic talent in the world of Diy Joystick.