Goolgames.com >
Racing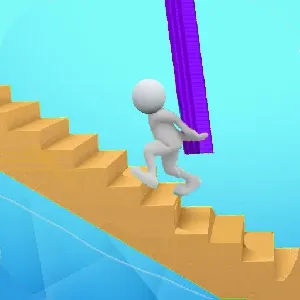 Block Stair Run, a block-moving parkour game, you need to show off your agility and reflexes. The goal of the game is to collect enough bricks between each floor to lay a safe path without falling. In addition to collecting bricks, you will also face a variety of obstacles. Once you collide with an obstacle, you will lose some bricks and therefore need to operate more carefully. In this game, collecting more bricks will help improve the player's score.
×
Related Games
ALL
Block Stair Run
About Block Stair Run
Block Stair Run is a thrilling block-moving parkour game, demanding players to showcase agility and reflexes. The objective is to collect sufficient bricks on each floor to construct a secure path without plummeting.
Gameplay of Block Stair Run
Maneuver through obstacles, collecting bricks to enhance your score. Colliding with obstacles results in brick loss, necessitating cautious operation. Strategic brick accumulation is vital for progression.
Features of Block Stair Run
Parkour-style gameplay
Dynamic obstacle challenges
Brick collection for score enhancement
Strategic and reflex-based gaming
Continuous improvement of skills
Play Block Stair Run online for free in Chrome, Edge and modern Web Browsers.
Tips and Strategies for Block Stair Run
Prioritize brick collection
Navigate obstacles with precision
Learn from collisions to refine strategy
Master agility to maximize scores
Consistency is key to sustained success.
In Summary
Block Stair Run is a captivating parkour game where agility and brick collection determine success. Face obstacles, refine strategies, and ascend to the top of the leaderboard.. Play Block Stair Run online on Chrome, Edge or other modern browsers and enjoy the fun.

GameComets brings together the most popular games, including the highly addictive Block Stair Run and a host of other trending free online games that promise to take your gaming journey to the next level.

Our carefully curated collection of games is designed to promote relaxation, and playing Block Stair Run online on our platform is the perfect way to de-stress and improve your mental well-being.
Platforms
Experience the thrill of the popular game Block Stair Run like never before with our free online version! Whether you're on a Chromebook, laptop, desktop or PC running Windows, you can now enjoy this game to your heart's content.

At our platform, we understand the importance of seamless gameplay. That's why we tested Block Stair Run game extensively on Chrome, Edge, and Firefox, and made sure it works faultlessly across all of today's most popular web browsers. You may play this game anytime you choose, from any location.
How to Play Block Stair Run
Swipe to move the character.
Collect bricks for a safe path.
Avoid obstacles to prevent brick loss.
Strategize to maximize scores.