Goolgames.com >
Puzzle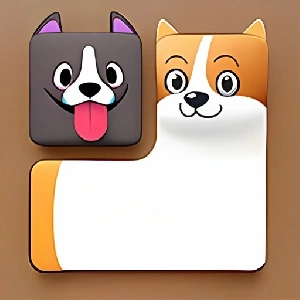 Doge Blocks is an addictive online puzzle game featuring a charming dog theme, offering simple yet challenging gameplay.
×
Related Games
ALL
Doge Blocks
About Doge Blocks
Doge Blocks is an addictive online puzzle game. The game design is unique, with a cute dog image as the theme, which adds fun and intimacy to the game. You need to drag the puppy with the mouse to fill the map. The gameplay in Doge Blocks is simple yet challenging. You must think carefully and plan Doge moves ahead to pass the game level. As the game levels increase, the challenges will become more complex.
What are the Key Features of the Doge Blocks?
1. With the theme of the cute dog image. 2. The gameplay is simple and easy to understand, you only need to click or drag to operate. 3. Fill the map with puppy blocks.
Gameplay of Doge Blocks
Doge Blocks is a captivating online puzzle game that revolves around a delightful dog theme. The objective is straightforward: using your mouse, drag the adorable puppy to fill the map. The gameplay is easy to grasp but progressively becomes more challenging as you advance through levels. To succeed, you'll need to plan your moves carefully, thinking ahead to overcome increasingly complex challenges. The unique dog theme adds an extra layer of fun and charm to the game, making it irresistible to players of all ages. Dive into the world of Doge Blocks and enjoy hours of puzzle-solving entertainment.
Features of Doge Blocks
Cute Dog Theme: Enjoy a charming game design centered around adorable dogs.
Simple Gameplay: Easy-to-understand mechanics; click or drag to operate.
Map-Filling Challenge: Fill the map with delightful puppy blocks to progress.
Unique and Addictive: A distinctive concept that keeps players engaged.
Increasing Complexity: As you advance, expect puzzles to become progressively more intricate.
Play Doge Blocks online for free in Chrome, Edge and modern Web Browsers.
Tips and Strategies for Doge Blocks
Plan Ahead: Strategize your moves in advance to tackle complex levels.
Efficient Filling: Optimize your puppy block placement to maximize coverage.
Precision Matters: Pay attention to details to ensure every space is filled.
Trial and Error: Don't be afraid to experiment with different strategies.
Enjoy the Theme: Immerse yourself in the adorable dog theme for added enjoyment.
In Summary
Doge Blocks is an addictive online puzzle game that combines simplicity with challenge, featuring a delightful dog theme for endless fun and entertainment. Play Doge Blocks online on Chrome, Edge or other modern browsers and enjoy the fun.

GameComets brings together the most popular games, including the highly addictive Doge Blocks and a host of other trending free online games that promise to take your gaming journey to the next level.

Our carefully curated collection of games is designed to promote relaxation, and playing Doge Blocks online on our platform is the perfect way to de-stress and improve your mental well-being.
Platforms
Experience the thrill of the popular game Doge Blocks like never before with our free online version! Whether you're on a Chromebook, laptop, desktop or PC running Windows, you can now enjoy this game to your heart's content.

At our platform, we understand the importance of seamless gameplay. That's why we tested Doge Blocks game extensively on Chrome, Edge, and Firefox, and made sure it works faultlessly across all of today's most popular web browsers. You may play this game anytime you choose, from any location.
How to Play Doge Blocks
Use your mouse to drag the puppy block and fill the map efficiently.
Plan your moves carefully to overcome increasingly complex challenges.
Enjoy the charming dog theme while mastering the art of Doge Blocks.
Dive into this addictive puzzle adventure and conquer levels by strategically filling the map with adorable puppy blocks.