Goolgames.com >
Boys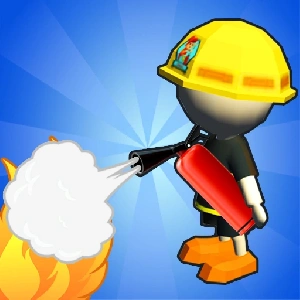 Fireman Rescue Maze 2
100%
In Fireman Rescue Maze 2, you step into the role of a heroic firefighter, navigating challenging mazes to extinguish fires and save trapped individuals.
×
Related Games
ALL
Fireman Rescue Maze 2
About Fireman Rescue Maze 2
Fireman Rescue Maze is a free online maze game for boys. In the game, you will become a fireman and take part in firefighting. You need to avoid various obstacles, put out the fire, and take the trapped people out of the building. There are various levels in the game. Are you confident to surpass them? Come and challenge!
Gameplay of Fireman Rescue Maze 2
Prepare for a thrilling experience as you embody a courageous fireman in Fireman Rescue Maze 2, a captivating online maze game designed for boys. This game plunges you into the heart of firefighting missions, where your quick thinking and agility are vital. Navigate through intricate mazes while dodging various obstacles, extinguish the raging fires that threaten to consume buildings, and, most importantly, rescue individuals trapped by the blaze. As you progress through numerous levels, each more complex than the last, will you rise to the challenge and showcase your firefighting prowess? Test your skills and take on the role of a heroic firefighter. The question is: Are you up to the task?
Features of Fireman Rescue Maze 2
Heroic Firefighting Adventure: Become a brave firefighter and tackle intense firefighting challenges in a maze environment.
Maze Navigation: Skillfully navigate through mazes, extinguishing fires, and saving trapped individuals.
Increasing Complexity: Experience a wide range of levels, each presenting more intricate mazes and fire scenarios.
Quick Thinking and Agility: Test your decision-making skills and dexterity in high-pressure situations.
Challenging Missions: Take on the role of a hero and demonstrate your firefighting abilities in this thrilling maze-based game.
Play Fireman Rescue Maze 2 online for free in Chrome, Edge and modern Web Browsers.
Tips and Strategies for Fireman Rescue Maze 2
Assess the Maze: Prioritize a quick evaluation of the maze layout to determine the best route to extinguish the fire and reach trapped individuals.
Extinguish Fires First: Focus on dousing the flames to prevent further damage and create a safer path for rescues.
Save Trapped Individuals: Once fires are under control, navigate to the trapped individuals and lead them to safety.
Optimize Movement: Minimize unnecessary movements in the maze to save valuable time during firefighting missions.
Time Management: Keep an eye on the time limit for each level, balancing your actions to complete the mission successfully.
In Summary
Fireman Rescue Maze 2 is an exhilarating firefighting maze game where you embody a heroic firefighter, extinguishing fires, and rescuing trapped individuals in challenging mazes. Will you conquer each level and become a firefighting champion?. Play Fireman Rescue Maze 2 online on Chrome, Edge or other modern browsers and enjoy the fun.

GameComets brings together the most popular games, including the highly addictive Fireman Rescue Maze 2 and a host of other trending free online games that promise to take your gaming journey to the next level.

Our carefully curated collection of games is designed to promote relaxation, and playing Fireman Rescue Maze 2 online on our platform is the perfect way to de-stress and improve your mental well-being.
Platforms
Experience the thrill of the popular game Fireman Rescue Maze 2 like never before with our free online version! Whether you're on a Chromebook, laptop, desktop or PC running Windows, you can now enjoy this game to your heart's content.

At our platform, we understand the importance of seamless gameplay. That's why we tested Fireman Rescue Maze 2 game extensively on Chrome, Edge, and Firefox, and made sure it works faultlessly across all of today's most popular web browsers. You may play this game anytime you choose, from any location.
How to Play Fireman Rescue Maze 2
Start your heroic journey as a fireman in Fireman Rescue Maze 2.
Maneuver through intricate mazes, prioritizing fire extinguishing and rescuing trapped individuals.
Use quick thinking and agility to navigate obstacles, save lives, and complete firefighting missions.
Are you ready to face the heat? Challenge yourself and step into the world of Fireman Rescue Maze 2!