Goolgames.com >
Shooting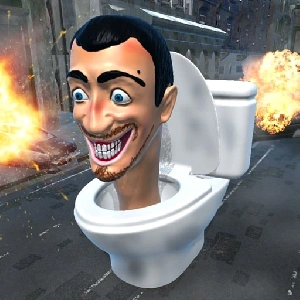 Skibidi Toilet Survival
50%
Get ready for an exhilarating gaming experience with Skibidi Toilet survival! Step into the shoes of the beloved character Skibidi Toilet as you navigate through a high-stakes game inspired by the hit series Squid Game. Can you survive the intense challenges and emerge as the ultimate champion?

In Skibidi Toilet survival, you will face a series of nerve-wracking tasks that will test your agility, reflexes, and nerve. The iconic green light, red light game takes center stage as you sprint, stop, and evade in a race against time. Will you listen carefully and move swiftly when the green light is on, or freeze in your tracks when the red light appears?

This heart-pounding game features stunning visuals, immersive sound effects, and intuitive controls that will keep you on the edge of your seat. The tension and excitement of the original Squid Game are faithfully recreated in Skibidi Toilet survival, delivering an authentic and thrilling gaming experience.

Key Features:

Challenge your reflexes: Test your ability to move quickly and precisely as you react to the changing lights.
Survive intense rounds: Stay alert and make split-second decisions to avoid getting caught and eliminated.
Explore various game modes: Take on different levels of difficulty and see how long you can last.
Compete with friends: Compare your scores on the leaderboards and prove that you're the ultimate champion.

Skibidi Toilet survival is the ultimate adrenaline rush game. Will you be able to keep your nerve and outsmart your opponents to claim victory? Download now and show the world that you have what it takes to survive!
×
Related Games
ALL
Skibidi Toilet Survival
About Skibidi Toilet Survival
Gameplay of Skibidi Toilet Survival
Features of Skibidi Toilet Survival
Play Skibidi Toilet Survival online for free in Chrome, Edge and modern Web Browsers.
Tips and Strategies for Skibidi Toilet Survival
In Summary
. Play Skibidi Toilet Survival online on Chrome, Edge or other modern browsers and enjoy the fun.

GameComets brings together the most popular games, including the highly addictive Skibidi Toilet Survival and a host of other trending free online games that promise to take your gaming journey to the next level.

Our carefully curated collection of games is designed to promote relaxation, and playing Skibidi Toilet Survival online on our platform is the perfect way to de-stress and improve your mental well-being.
Platforms
Experience the thrill of the popular game Skibidi Toilet Survival like never before with our free online version! Whether you're on a Chromebook, laptop, desktop or PC running Windows, you can now enjoy this game to your heart's content.

At our platform, we understand the importance of seamless gameplay. That's why we tested Skibidi Toilet Survival game extensively on Chrome, Edge, and Firefox, and made sure it works faultlessly across all of today's most popular web browsers. You may play this game anytime you choose, from any location.
How to Play Skibidi Toilet Survival