Goolgames.com >
Sports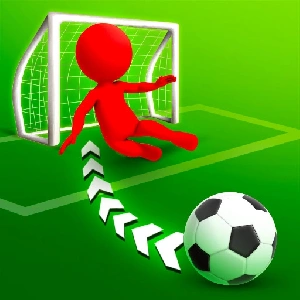 Cool Goal is a soccer simulation combined with physics arcade gameplay, featuring 3D stickman art animation. Score goals and collect gold coins!
×
Related Games
ALL
Cool Goal
About Cool Goal
Cool Goal is not only a soccer simulation but also a physics arcade game that is made from 3D stickman game art animation. You need to shoot and goal at each level. Try to take the best path for the goal and collect the gold coins in Cool Goal!
Gameplay of Cool Goal
Cool Goal offers a unique blend of soccer simulation and physics arcade gaming. With its eye-catching 3D stickman art animation, you take on the role of a skilled goal scorer. Your mission is simple: shoot and score goals in a variety of challenging levels. To succeed, you must determine the optimal path to the goal, taking into account physics and obstacles. Additionally, you can collect gold coins as you progress, adding an extra layer of excitement. Enjoy the dynamic, fun-filled experience of mastering the art of scoring goals in this addictive game.
Features of Cool Goal
A soccer simulation game with physics-based arcade gameplay.
Captivating 3D stickman art animation for a unique visual experience.
Engaging and challenging levels that test your goal-scoring skills.
Collect gold coins to enhance your gaming experience.
A perfect mix of soccer and arcade elements for casual and sports game enthusiasts.
Play Cool Goal online for free in Chrome, Edge and modern Web Browsers.
Tips and Strategies for Cool Goal
Study the level layouts to identify the best shooting path to the goal.
Pay attention to physics, angles, and obstacles to maximize your goal-scoring accuracy.
Aim to collect gold coins to unlock additional content and enhance gameplay.
Keep practicing your shooting skills to master the game's challenges.
Be patient and adjust your strategy as you encounter more complex levels.
In Summary
Cool Goal seamlessly combines soccer simulation and physics arcade gameplay, boasting striking 3D stickman art animation. Shoot, score goals, and collect gold coins as you navigate through a series of engaging levels, making it an addictively fun gaming experience. Play Cool Goal online on Chrome, Edge or other modern browsers and enjoy the fun.

GameComets brings together the most popular games, including the highly addictive Cool Goal and a host of other trending free online games that promise to take your gaming journey to the next level.

Our carefully curated collection of games is designed to promote relaxation, and playing Cool Goal online on our platform is the perfect way to de-stress and improve your mental well-being.
Platforms
Experience the thrill of the popular game Cool Goal like never before with our free online version! Whether you're on a Chromebook, laptop, desktop or PC running Windows, you can now enjoy this game to your heart's content.

At our platform, we understand the importance of seamless gameplay. That's why we tested Cool Goal game extensively on Chrome, Edge, and Firefox, and made sure it works faultlessly across all of today's most popular web browsers. You may play this game anytime you choose, from any location.
How to Play Cool Goal
Launch Cool Goal and prepare to immerse yourself in the world of soccer and physics arcade fun.
Aim your shots carefully, considering the physics and obstacles on each level.
Score goals and advance through the game while collecting gold coins.
Keep honing your goal-scoring skills, enjoy the captivating 3D stickman visuals, and aim to conquer every level in Cool Goal!