Goolgames.com >
Boys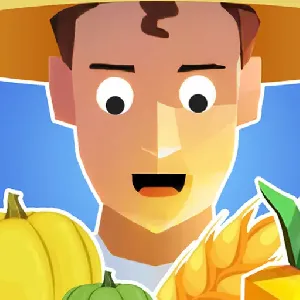 Harvest Stealer is an addictive puzzle adventure game where you step into the shoes of Harve Stealer, a cunning thief facing diverse challenges.
×
Related Games
ALL
Harvest Stealer
About Harvest Stealer
Harvest Stealer is an addictive puzzle adventure game. In this game, you will play Harve Stealer, a smart and witty thief, who needs to complete various challenges and tasks on different levels.
Gameplay of Harvest Stealer
In Harvest Stealer, you assume the role of Harve Stealer, a clever and resourceful thief embarking on an intriguing puzzle adventure. Each level presents a unique set of challenges and tasks that will test your wit and problem-solving skills. As Harve, you must navigate various scenarios, employing your intellect to outsmart obstacles, unlock mysteries, and steal precious treasures. The game's immersive puzzles will captivate your mind, offering a captivating and engaging experience that unfolds as you progress through different levels. Prepare to be hooked by the intricate puzzles and dynamic gameplay of Harvest Stealer.
Features of Harvest Stealer
Puzzle Adventure: Immerse yourself in an addictive puzzle adventure as Harve Stealer.
Diverse Challenges: Each level offers a new array of puzzles and tasks to keep you engaged.
Clever Problem-Solving: Utilize your intellect to overcome obstacles, unlock mysteries, and secure treasures.
Engaging Gameplay: Explore a world filled with immersive puzzles that progressively increase in complexity.
Captivating Experience: Harvest Stealer delivers a captivating adventure with countless mind-bending challenges.
Play Harvest Stealer online for free in Chrome, Edge and modern Web Browsers.
Tips and Strategies for Harvest Stealer
Analyze Each Scenario: Take your time to assess the challenges presented in each level.
Think Outside the Box: Many solutions will require creative and unconventional approaches.
Observe Your Surroundings: Careful observation often reveals clues and hidden elements.
Trial and Error: Don't be afraid to experiment with different strategies to find the best solutions.
Patience and Persistence: Some puzzles may be tricky, so patience and persistence are key to success.
In Summary
Harvest Stealer is an immersive puzzle adventure game that follows the journey of the cunning thief Harve Stealer as he navigates an array of challenges and tasks. Play Harvest Stealer online on Chrome, Edge or other modern browsers and enjoy the fun.

GameComets brings together the most popular games, including the highly addictive Harvest Stealer and a host of other trending free online games that promise to take your gaming journey to the next level.

Our carefully curated collection of games is designed to promote relaxation, and playing Harvest Stealer online on our platform is the perfect way to de-stress and improve your mental well-being.
Platforms
Experience the thrill of the popular game Harvest Stealer like never before with our free online version! Whether you're on a Chromebook, laptop, desktop or PC running Windows, you can now enjoy this game to your heart's content.

At our platform, we understand the importance of seamless gameplay. That's why we tested Harvest Stealer game extensively on Chrome, Edge, and Firefox, and made sure it works faultlessly across all of today's most popular web browsers. You may play this game anytime you choose, from any location.
How to Play Harvest Stealer
Assume the role of Harve Stealer, a witty thief, and embark on an adventurous journey.
Solve intricate puzzles and tackle diverse challenges in each level to progress.
Employ your intellect and creativity to overcome obstacles and secure valuable treasures.
Engage in the addictive and immersive gameplay of Harvest Stealer and uncover the secrets hidden within each level.