Goolgames.com >
Racing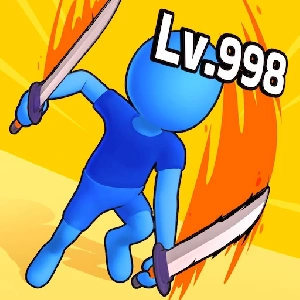 Hit Run: Solo Leveling
80%
Hit Run: Solo Leveling is an intriguing parkour game where you use blades to eliminate enemies and crush obstacles on your path to save the village.
×
Related Games
ALL
Hit Run: Solo Leveling
About Hit Run: Solo Leveling
Hit Run: Solo Leveling is a very interesting parkour game. You have a set of blades and you need to defeat all the enemies that stand in your way. Crushing all the obstacles is your only goal, and cutting down enemies you can upgrade. Defeat the final leader and you'll be able to save the village! Challenge yourself and good luck!
Gameplay of Hit Run: Solo Leveling
In Hit Run: Solo Leveling, you'll dive into a captivating parkour experience. Armed with a set of blades, your primary mission is to eliminate all the adversaries obstructing your way. Your sole objective is to overcome obstacles and upgrade your abilities by vanquishing enemies. The ultimate challenge lies in defeating the final leader to rescue the besieged village. As you progress, you'll encounter increasingly challenging obstacles and enemies, putting your skills to the test. Challenge yourself in this action-packed adventure and wish yourself good luck as you strive to emerge victorious and save the village from impending doom.
Features of Hit Run: Solo Leveling
Blade-Wielding Action: Engage in thrilling combat with a set of deadly blades.
Enemy Elimination: Crush obstacles and defeat enemies to enhance your skills.
Villager Rescue: Save the village by overcoming the final leader.
Challenging Levels: Face progressively difficult obstacles and adversaries.
Action-Packed Adventure: Embark on a high-energy journey in Hit Run: Solo Leveling.
Play Hit Run: Solo Leveling online for free in Chrome, Edge and modern Web Browsers.
Tips and Strategies for Hit Run: Solo Leveling
Timing is Crucial: Master the timing of your attacks to maximize efficiency.
Upgrade Wisely: Prioritize upgrades that align with your preferred playstyle.
Study Enemy Patterns: Learn enemy behaviors to anticipate their moves.
Map Awareness: Be aware of your surroundings and navigate obstacles skillfully.
Persistence Pays Off: Don't give up; practice and determination lead to victory.
In Summary
Hit Run: Solo Leveling is a thrilling parkour game where you wield blades, conquer obstacles, and defeat enemies to save the village in a high-stakes adventure. Play Hit Run: Solo Leveling online on Chrome, Edge or other modern browsers and enjoy the fun.

GameComets brings together the most popular games, including the highly addictive Hit Run: Solo Leveling and a host of other trending free online games that promise to take your gaming journey to the next level.

Our carefully curated collection of games is designed to promote relaxation, and playing Hit Run: Solo Leveling online on our platform is the perfect way to de-stress and improve your mental well-being.
Platforms
Experience the thrill of the popular game Hit Run: Solo Leveling like never before with our free online version! Whether you're on a Chromebook, laptop, desktop or PC running Windows, you can now enjoy this game to your heart's content.

At our platform, we understand the importance of seamless gameplay. That's why we tested Hit Run: Solo Leveling game extensively on Chrome, Edge, and Firefox, and made sure it works faultlessly across all of today's most popular web browsers. You may play this game anytime you choose, from any location.
How to Play Hit Run: Solo Leveling
Use your blades to defeat enemies and clear obstacles in your path.
Strategically time your attacks to maximize their effectiveness.
Upgrade your skills as you progress to face tougher challenges.
Embark on the action-packed journey of Hit Run: Solo Leveling and become the village's savior by defeating the final leader.