Goolgames.com >
Racing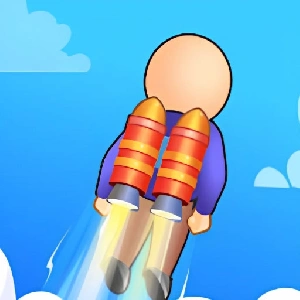 Experience the thrill of high-flying aquatic racing with Water Jetpack Race, a dynamic and free online game tailored for boys. Take command of a jetpack-wearing character, using water columns to soar and plunge, all while navigating obstacles and gathering coins.
×
Related Games
ALL
Water Jetpack Race
About Water Jetpack Race
Water Jetpack Race is a fun and free online racing game for boys. Control the role of carrying a jet backpack, spraying water columns to rise and fall, avoiding all kinds of obstacles encountered on the road, and collecting coins. You can upgrade your jetpack so that it can have a longer acceleration time and surpass more competitors. Play on Mobile, Tablet, or Desktop.
Gameplay of Water Jetpack Race
Water Jetpack Race offers an exhilarating gameplay experience where you pilot a jetpack-equipped character. Use water jets to ascend and descend, skillfully maneuver through a challenging course filled with obstacles, and amass a treasure trove of coins.
Features of Water Jetpack Race
Free Racing Fun: Dive into a free online racing game designed for boys, delivering hours of entertainment.
Jetpack Adventure: Control your character sporting a jetpack, employing water columns for thrilling aerial maneuvers.
Obstacle Course: Test your skills as you navigate a course riddled with diverse obstacles.
Coin Collection: Gather coins along the way to enhance your gaming experience.
Jetpack Upgrades: Elevate your gameplay by upgrading your jetpack for longer acceleration and the ability to outpace your competition.
Play Water Jetpack Race online for free in Chrome, Edge and modern Web Browsers.
Tips and Strategies for Water Jetpack Race
Precision Control: Master control over your jetpack to expertly navigate tight spots and avoid obstacles.
Coin Prioritization: Balance speed with coin collection, aiming to maximize both for a winning strategy.
Upgrade Wisely: Invest in jetpack upgrades strategically to gain an edge over competitors.
Practice Makes Perfect: Regular play sharpens your racing skills, helping you achieve victory.
In Summary
Water Jetpack Race is an action-packed, free online racing game, tailored for boys, offering thrilling jetpack racing, obstacle-filled challenges, coin collecting, and strategic upgrades. Play Water Jetpack Race online on Chrome, Edge or other modern browsers and enjoy the fun.

GameComets brings together the most popular games, including the highly addictive Water Jetpack Race and a host of other trending free online games that promise to take your gaming journey to the next level.

Our carefully curated collection of games is designed to promote relaxation, and playing Water Jetpack Race online on our platform is the perfect way to de-stress and improve your mental well-being.
Platforms
Experience the thrill of the popular game Water Jetpack Race like never before with our free online version! Whether you're on a Chromebook, laptop, desktop or PC running Windows, you can now enjoy this game to your heart's content.

At our platform, we understand the importance of seamless gameplay. That's why we tested Water Jetpack Race game extensively on Chrome, Edge, and Firefox, and made sure it works faultlessly across all of today's most popular web browsers. You may play this game anytime you choose, from any location.
How to Play Water Jetpack Race
Access Water Jetpack Race on your preferred device—Mobile, Tablet, or Desktop.
Assume control of the jetpack-wearing character and embark on your racing adventure.
Employ water columns to rise and fall, deftly navigating a course loaded with obstacles.
Collect coins, upgrade your jetpack, and aim to outshine the competition in this high-flying race.