Goolgames.com >
Boys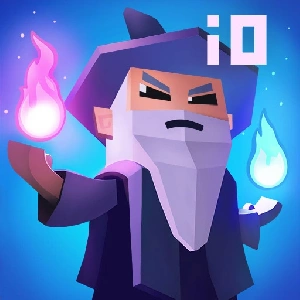 Magica.io is a thrilling and popular online game designed for kids, offering a unique style and strategic gameplay to defeat enemies.
×
Related Games
ALL
Magica.io
About Magica.io
Magica.io is a popular and fun online game and a must-experience free thrill ride for that kid. The unique style is created especially for you, you just need to control the direction of your character. Use your mind to strategically use your skills to defeat your enemies. A new and exciting way to fight, why not come and experience it?
Gameplay of Magica.io
Prepare for an exhilarating and magical journey with Magica.io, a highly popular and entertaining online game tailored for kids and the young at heart. This captivating game introduces a unique art style that's exclusively designed for your enjoyment. Your primary task is to control your character's direction while strategically employing your skills to conquer your adversaries. Engage in battles like never before, and immerse yourself in this new and exciting approach to combat. Don't miss out on the chance to experience the magic and excitement of Magica.io. Join the adventure today and discover the thrill of this enchanting world!
Features of Magica.io
Unique Art Style: Enjoy a one-of-a-kind visual style designed for a magical experience.
Strategic Gameplay: Utilize your skills and wits to defeat opponents strategically.
Thrilling Battles: Engage in captivating battles in an exciting online environment.
Kid-Friendly Fun: Magica.io offers a fun and safe gaming experience suitable for kids.
New Gaming Approach: Experience a fresh and thrilling way to engage in battles and challenges.
Play Magica.io online for free in Chrome, Edge and modern Web Browsers.
Tips and Strategies for Magica.io
Master Your Skills: Learn to use your character's abilities effectively in battles.
Strategic Movements: Plan your moves carefully to outsmart your opponents.
Collect Power-Ups: Gather power-ups and boosts to gain an advantage.
Stay Alert: Keep an eye on your surroundings and be ready to react quickly.
Enjoy the Journey: Embrace the magical world of Magica.io and have fun while playing.
In Summary
Magica.io is an exciting online game designed for kids, featuring a unique art style and strategic battles for a magical gaming experience. Play Magica.io online on Chrome, Edge or other modern browsers and enjoy the fun.

GameComets brings together the most popular games, including the highly addictive Magica.io and a host of other trending free online games that promise to take your gaming journey to the next level.

Our carefully curated collection of games is designed to promote relaxation, and playing Magica.io online on our platform is the perfect way to de-stress and improve your mental well-being.
Platforms
Experience the thrill of the popular game Magica.io like never before with our free online version! Whether you're on a Chromebook, laptop, desktop or PC running Windows, you can now enjoy this game to your heart's content.

At our platform, we understand the importance of seamless gameplay. That's why we tested Magica.io game extensively on Chrome, Edge, and Firefox, and made sure it works faultlessly across all of today's most popular web browsers. You may play this game anytime you choose, from any location.
How to Play Magica.io
Control your character's direction by using intuitive controls.
Engage in thrilling battles by strategically using your character's skills.
Defeat opponents and collect power-ups to enhance your abilities.
Immerse yourself in the enchanting world of Magica.io and enjoy the magic of this captivating game.