Goolgames.com >
Racing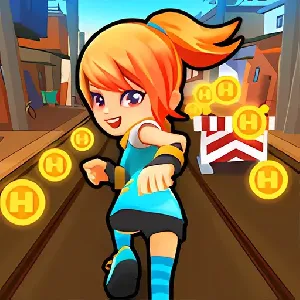 Subway Princess Run is an exhilarating parkour game that lets you take on the role of a fearless princess in an action-packed adventure.
×
Related Games
ALL
Subway Princess Run
About Subway Princess Run
Subway Princess Run is a parkour game where you play a brave princess and embark on a thrilling adventure with her. In this game, you need to control the princess' movements and avoid various obstacles by jumping and sliding so that she can reach the finish line smoothly. In Subway Princess Run, you'll run through colorful subway scenes, from city to city, and through a variety of environments. You need to be alert at all times because there will be tall buildings, moving vehicles, piled-up obstacles, and more in your path. Using quick reflexes and precise maneuvers, you must jump, slide and swerve to avoid collisions with obstacles, otherwise the princess will fall and the game will be over.
Gameplay of Subway Princess Run
In Subway Princess Run, you become a brave princess on a thrilling parkour adventure. Your mission is to control the princess's movements as she dashes through a variety of environments, from city to city, across colorful subway scenes. Along the way, you'll encounter numerous obstacles, including towering buildings, moving vehicles, and piled-up barriers. To succeed, you must rely on quick reflexes and precise maneuvers to jump, slide, and swerve, avoiding collisions and ensuring the princess reaches the finish line safely. The game offers non-stop action and exciting challenges as you navigate the ever-changing urban landscapes.
Features of Subway Princess Run
A courageous princess as the main character for a unique twist.
A variety of vibrant and challenging subway scenes.
Parkour-style gameplay with dynamic obstacle avoidance.
Quick reflexes and precise control needed for success.
Competitive scoring system for endless replay value.
Play Subway Princess Run online for free in Chrome, Edge and modern Web Browsers.
Tips and Strategies for Subway Princess Run
Stay alert and anticipate obstacles ahead to react in time.
Use quick swipes to jump, slide, and maneuver through tight spots.
Collect power-ups and coins to enhance your performance.
Aim for high scores and challenge friends in friendly competition.
Enjoy the action and immerse yourself in the fast-paced adventure.
In Summary
Subway Princess Run is a thrilling parkour game where you step into the shoes of a brave princess, navigating colorful subway scenes filled with obstacles. With non-stop action and dynamic gameplay, it promises an exciting adventure that will keep you engaged and entertained. Play Subway Princess Run online on Chrome, Edge or other modern browsers and enjoy the fun.

GameComets brings together the most popular games, including the highly addictive Subway Princess Run and a host of other trending free online games that promise to take your gaming journey to the next level.

Our carefully curated collection of games is designed to promote relaxation, and playing Subway Princess Run online on our platform is the perfect way to de-stress and improve your mental well-being.
Platforms
Experience the thrill of the popular game Subway Princess Run like never before with our free online version! Whether you're on a Chromebook, laptop, desktop or PC running Windows, you can now enjoy this game to your heart's content.

At our platform, we understand the importance of seamless gameplay. That's why we tested Subway Princess Run game extensively on Chrome, Edge, and Firefox, and made sure it works faultlessly across all of today's most popular web browsers. You may play this game anytime you choose, from any location.
How to Play Subway Princess Run
Control the princess's movements by swiping to jump, slide, and swerve.
Dodge various obstacles and collect power-ups for an advantage.
Aim to reach the finish line safely while accumulating coins.
Challenge yourself and friends in Subway Princess Run, showcasing your parkour skills and enjoying the exciting adventure.